Our IP Management page lets clients change key features to the DDoS protection and network firewalls, which lets you make protection more efficient for the type of services you run on your servers.

Go to the following URL to access the IP Management interface: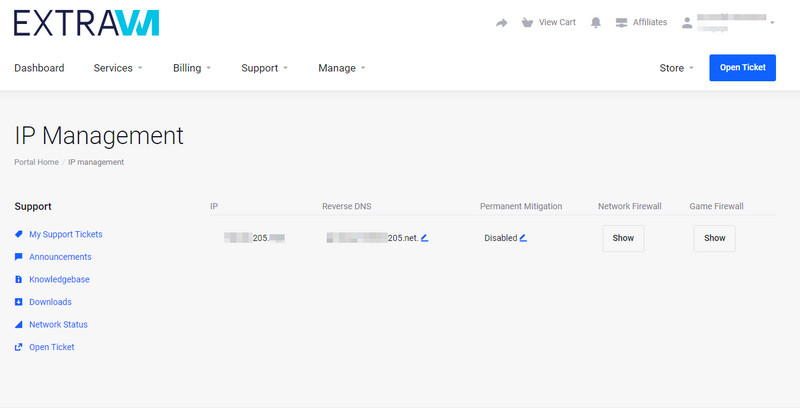 This is available for clients who have VPS in the following locations:
Montreal, Canada
Vint Hill, Virginia
Gravelines, France
London, United Kingdom
Sydney, Australia
Singapore
You can do the following through the IP Management page:
List all IPs associated with VPS on account
Manage Reverse DNS for IPs
Enable or Disable Permanent Mitigation
Enable or Disable Network Firewall
View, Add, Delete Network Firewall Rules (19 Max)
Enable or Disable GAME Firewall
View, Add, Delete GAME Firewall Rules (19 Max)

The Network Firewall gives you access to the following modifications:
Rule Sequence (1 - 19), Lowest Implemented First
Action: Allow or Deny
Block Protocols: AH, ESP, GRE, ICMP, TCP,  UDP, IPV4
Destination Port
Source IP (Default: Any)
Source Port

Network Firewall Screenshot: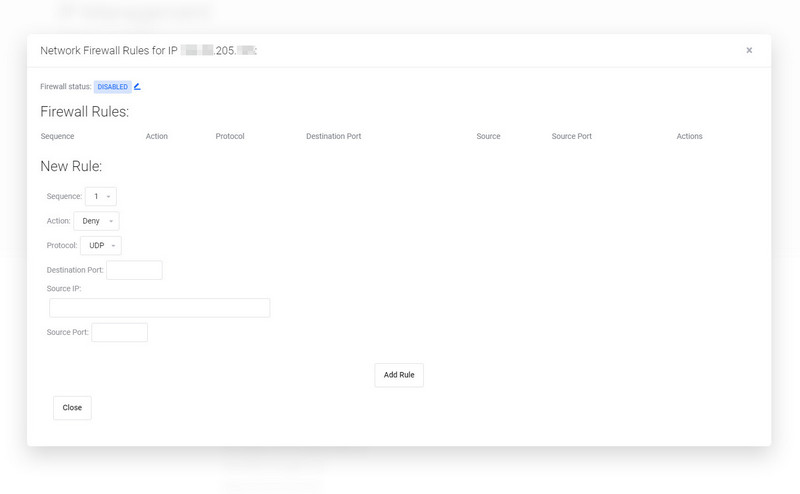 The Game Firewall allows you to create DDoS/traffic filters for specific game servers that use UDP traffic. Adding a filter for your game server ports is required for players to connect.
Supported games and software:
ARK Survival Evolved
ARMA
GTA Multi Theft Auto San Andreas
GTA San Andreas Multiplayer Mod (SAMP)
Half-Life 2 / Source (CSGO, etc.)
Minecraft Pocket Edition
Minecraft Query
Mumble
Other (Allow All UDP)
Rust
Teamspeak 2
Teamspeak 3
Trackmania Shootmania
GAME Firewall Screenshot: