Read customer reviews of our service

• Mason - LowEndSpirit Forum - March 26, 2022 - Just want to chime in as well. I had a VM for a little less than three years with Mike that was being used for a game server. In that entire time, I never had any issues reported by the players on the server nor had any need to submit a ticket for any reason. Would always recommend ExtraVM without reservation.




• rhinoduck - LowEndSpirit Forum - March 26, 2022 - Same here, I had a couple of OpenVZ VPSes with ExtraVM for a couple of years until that particular offering was discontinued. I was unlucky enough to have been affected by one HW fault during that time, but at least it let me see that the level of service stays good not only when things are going well, but also, and importantly, when things are not going so well. The situation was handled properly and in a very customer-oriented way (while avoiding any corporate-style nonsense).
In summary, I too can recommend ExtraVM. I have certainly never felt like I was getting the short end of the stick; quite the opposite actually.




• Chalipa - LowEndSpirit Forum - March 25, 2022 - Been using service from ExtraVM for a few months now, the service has been great and @MikeA goes the extra mile to provide excellent support.
A+ provider, highly recommended! And **NOBODY **asked me to write a review here, I just wanted to appreciate the great service ExtraVM provides and help others who are looking for a great provider.



• Dominic Yoder - HostAdvice - March 4, 2022 - I have been using various services from ExtraVM consistently for two and a half years now. By and large, their offerings are quite competitive in both pricing and performance. Like any provider, there are bouts of network reliability issues every now and then, but there are largely no issues and support is fantastic. It seems like they're always trying to find some ways to improve or expand their service, which is very nice. Highly recommend!




• Desperand - ServerHunter - April 6, 2019 - Found this diamond from tons of shit somewhere in 2015 or 2016. Since 2016 using it.
What can I say? I recommend it. Why?
- instant setup
- good DDoS protection
- very good hardware (not oversold one, with very good performance)
- almost instant answers to support tickets
- no issues or problems for the last 3 years for sure at all with the provider. What is very rare in my practice (usually even good providers fail, but ExtraVM did not piss me off yet).
I can recommend it for people who're looking not for a price, but for a really great provider.




• Tiago - TrustPilot - June 27, 2021 - Very good hosting, i have webhost since 2019 and 0 downtime and very fast servers, i recommend :).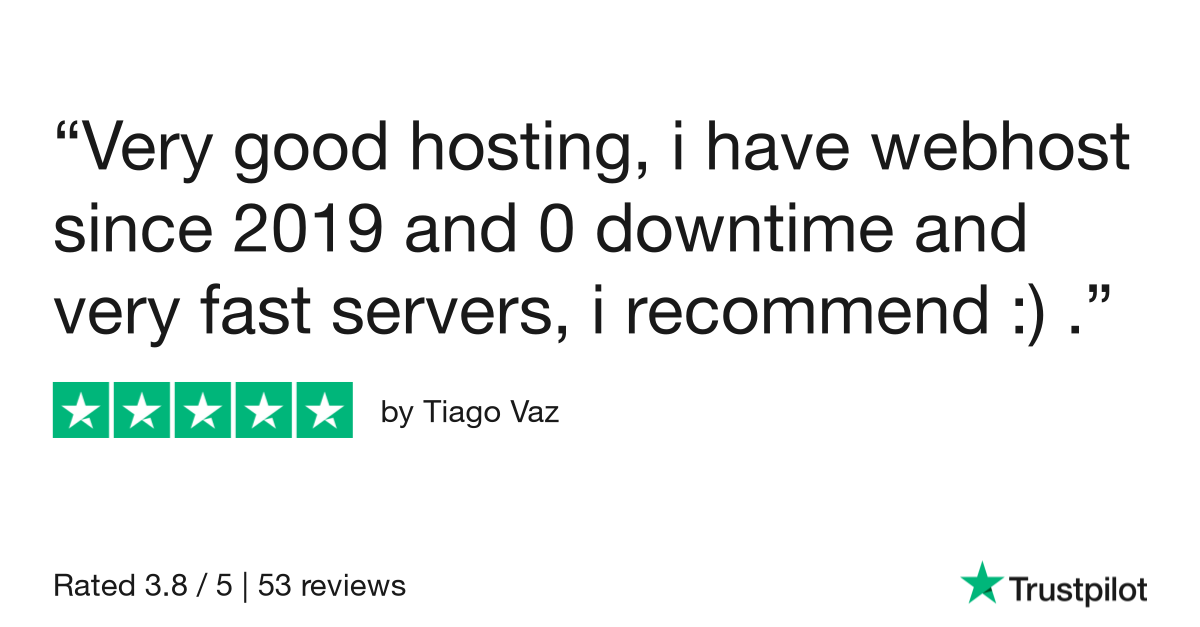 • Ismail - TrustPilot - May 9, 2021 - Very good service and support, probably one of the best Minecraft hosting out there whilst not being over priced, i had to stop mine because I had more stuff to do and couldn't maintain my server, but i'll defo return back to them once im done with my stuff.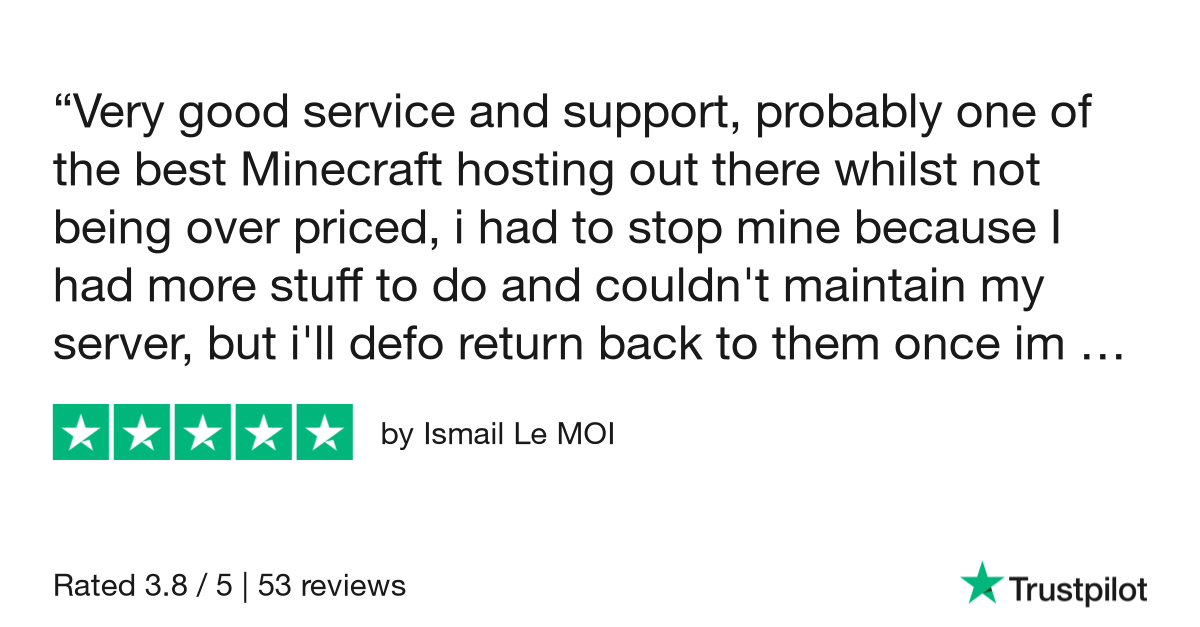 • Adrian G. - TrustPilot - April 9, 2021 - I always try to get the best bang for buck, hosting is no different. Naturally, I'd kept service hopping until finding ExtraVM from personal reviews online. As you can see with the 5-stars, I thought putting this out there could help others. My personal experience after comparing and contrasting features from different hosts that are very similar in price and features. [continued...]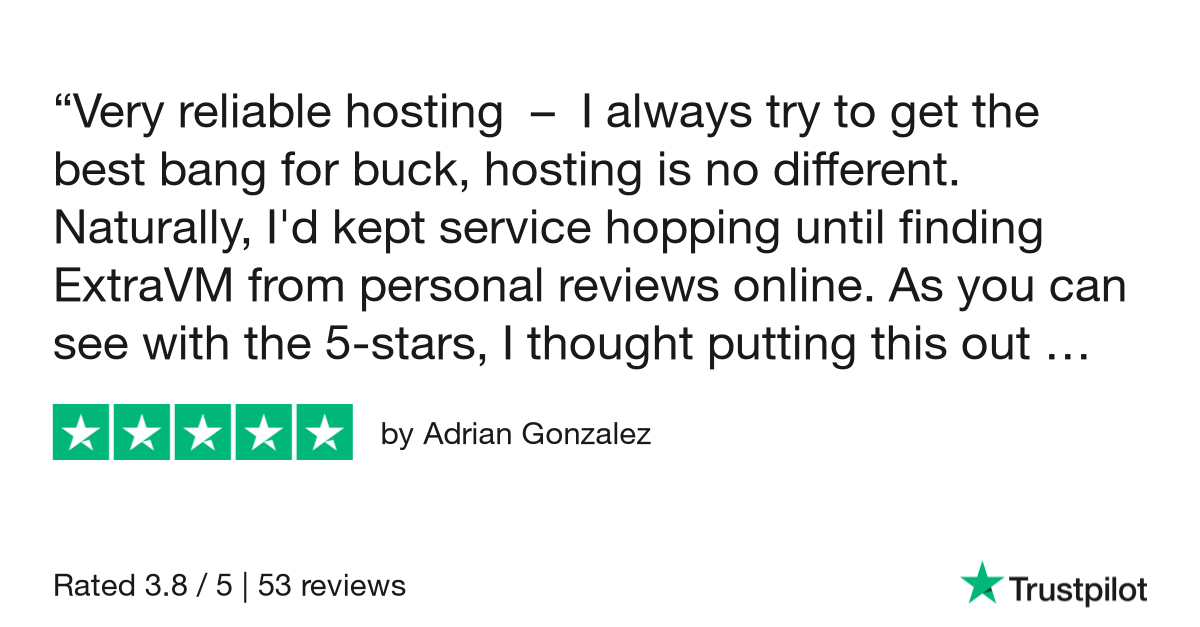 • Нина - TrustPilot - March 21, 2021 - 10x! Great site. Not bad support. Normal conditions.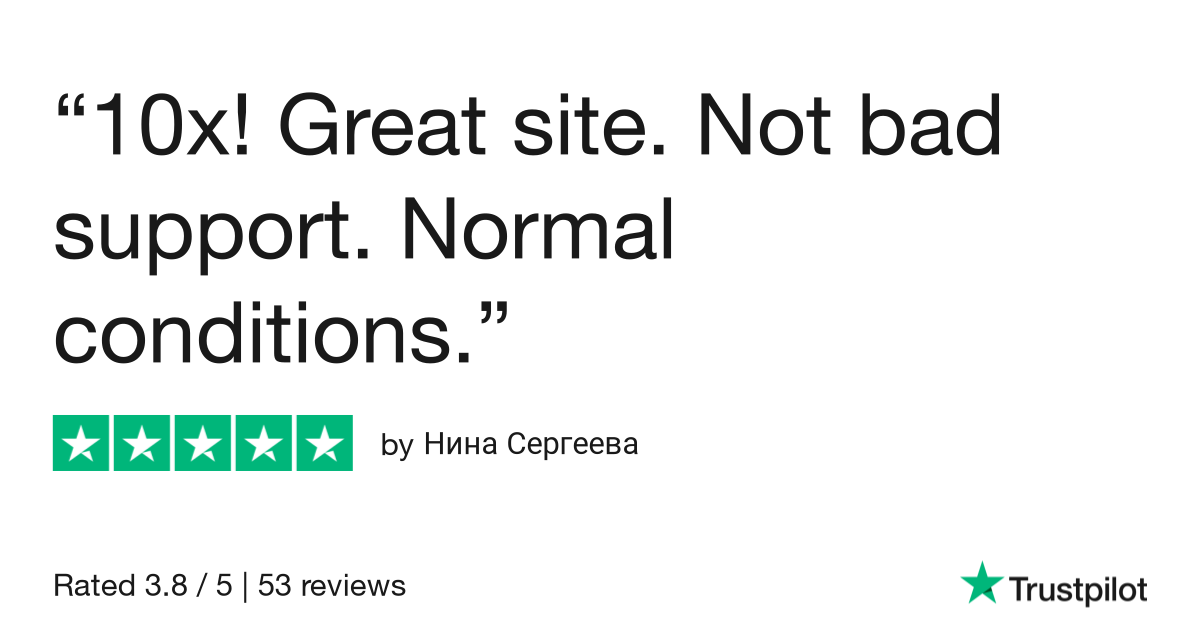 • Анжелика - TrustPilot - March 20, 2021 - Thanks! Nice equipment. My friend advised.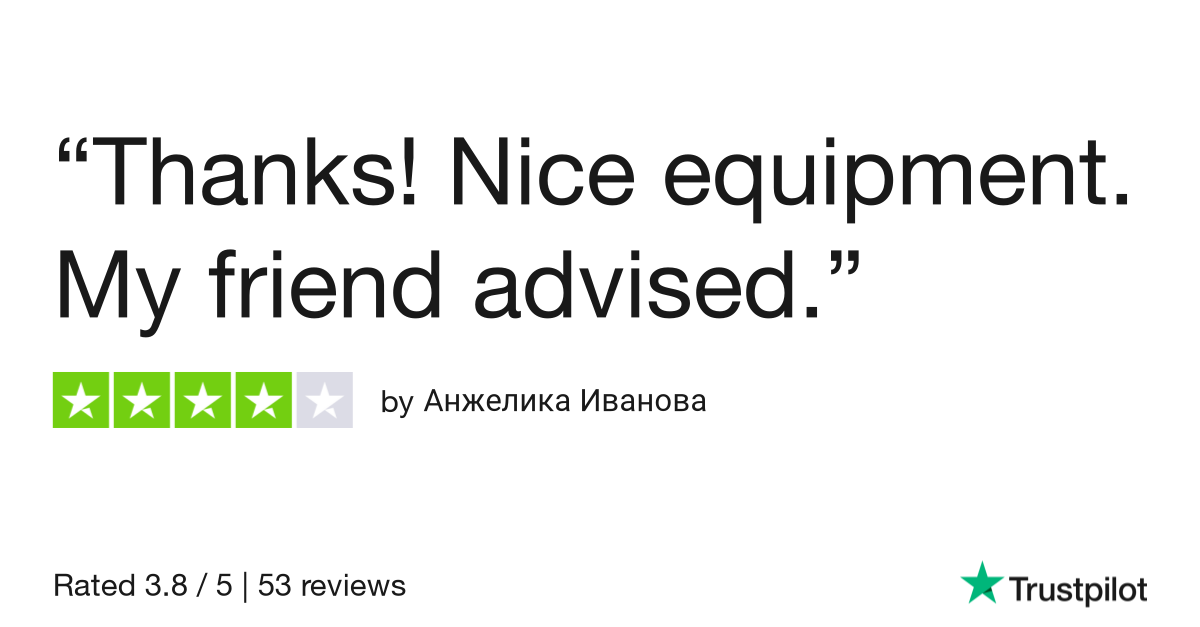 • Jason H. - TrustPilot - November 25, 2020 - I got a modded minecraft server with this company. Awesome prices, and literally the best service anyone could ask for. I asked for a modpack that wasnt on their list and within 5 minutes it was installed and running on my server. Highly recommend.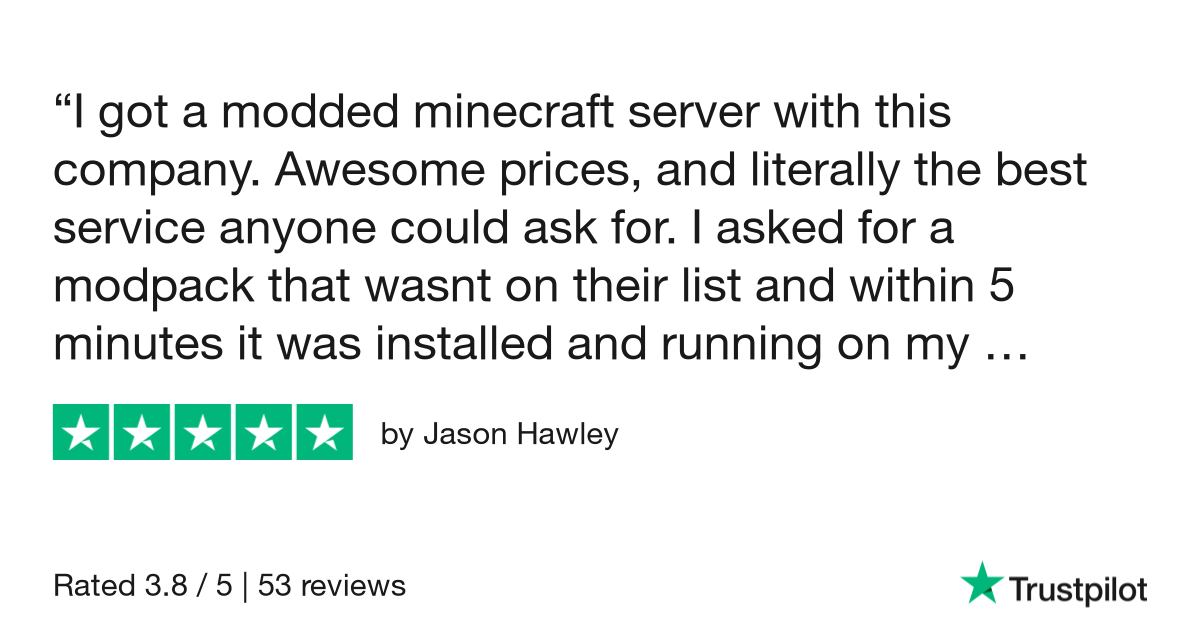 • Anush - TrustPilot - August 31, 2020 - awesome servers! got some servers on promotion and they perform very nicely. can handle modded minecraft servers really well. mike is awesome at support too, and i swear he never sleeps.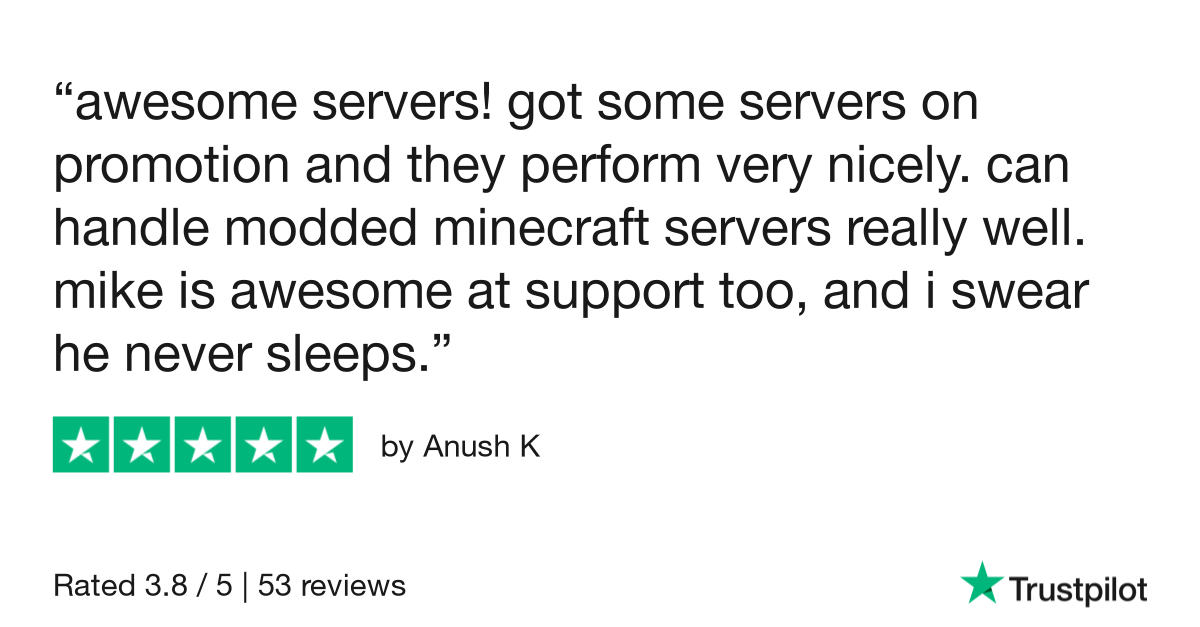 • Manuel A. - TrustPilot - July 22, 2020 - With kvm virtualizzation the hardware is guaranteed, the antiddos is superb and i never had a problem so i didn't needed to contact the assistance. 10/10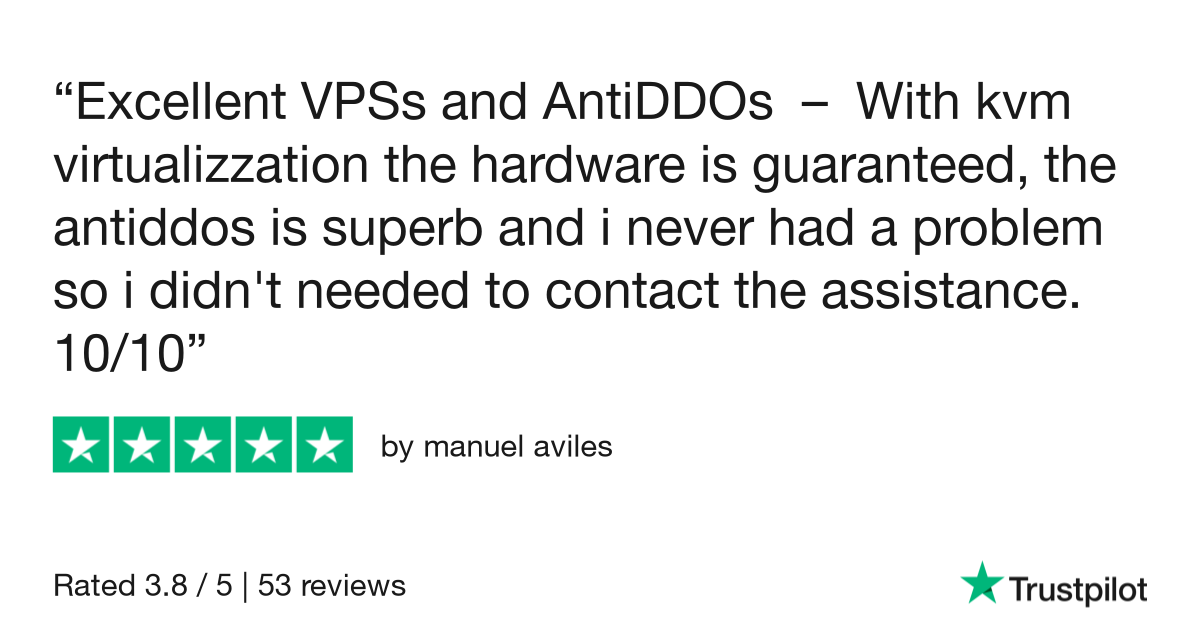 • Kristian - TrustPilot - July 17, 2020 - Best Minecraft server host. My friend group used this for few months for our Minecraft survival. Sadly their prices have increased now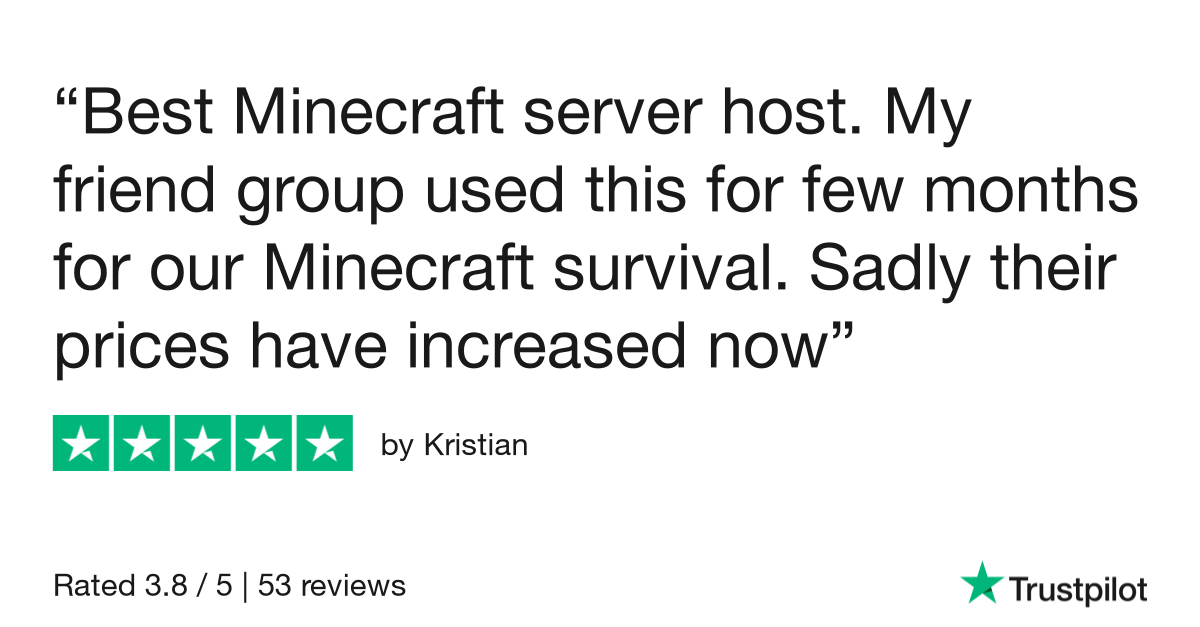 • Tolanar - TrustPilot - July 13, 2020 - They guy behind company knows what he is doing. He not running for money by offering a lot of unmanagged crap, he just focused on only few things which he is doing great, and increase size of his company horizontally instead of going deep into offering different types of services. His services has good performance, and everything well managed.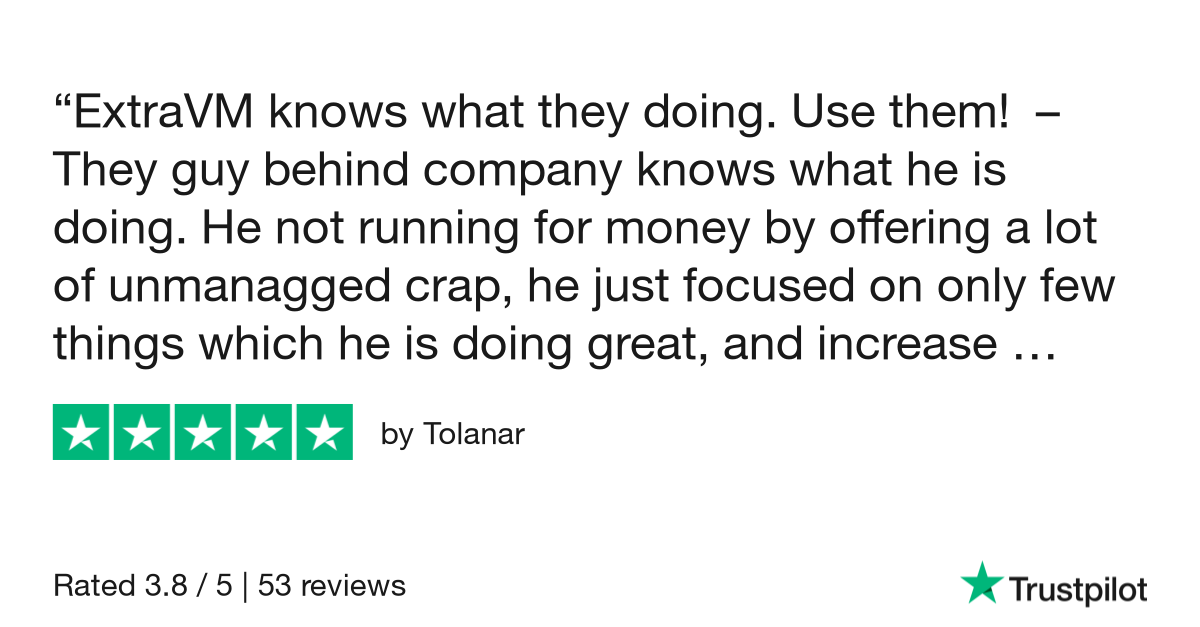 • Atulos - TrustPilot - July 6, 2020 - ExtraVM is a great hosting service and has very quick support response times. The Minecraft server plan that I went with is saving me quite a lot of money monthly in comparison to my previous host and I am getting a better performing server.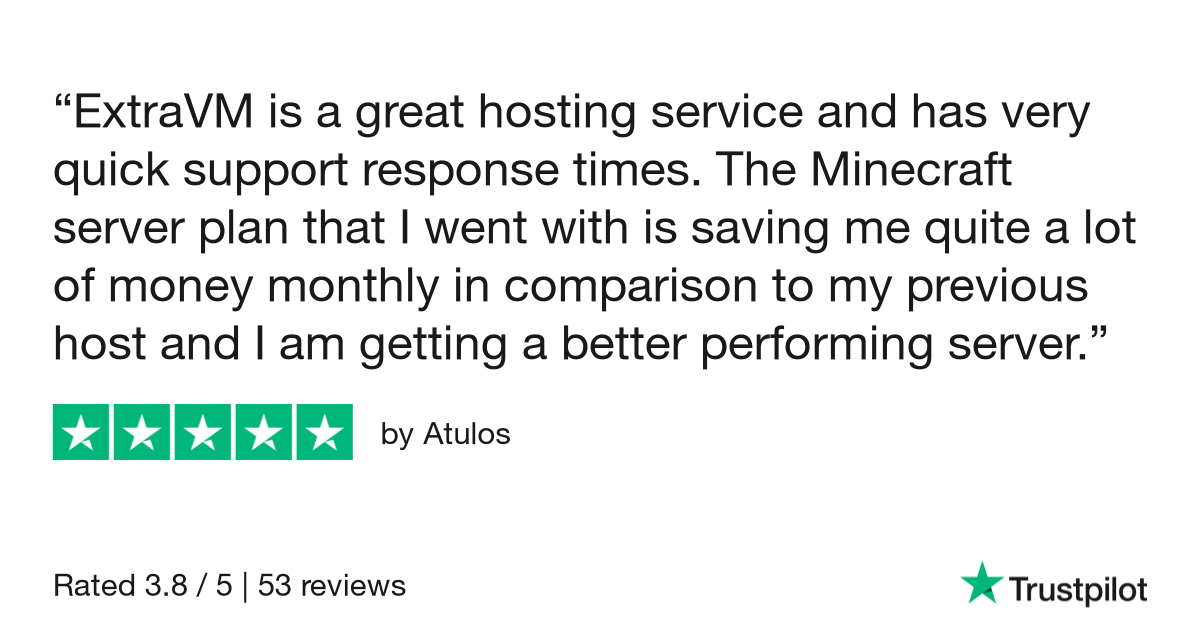 • Marcus - TrustPilot - June 15, 2020 - My experience with ExtraVM so far (about 9 months) has been simply fantastic. Leagues better than the previous couple hosts I've used, and with great prices too. One area that requires exceptional praise would be the support - it's outstanding. Replies are insanely fast, incredibly helpful and informative, and has been nothing but a pleasure deal with. I'll keep updating this review as I use the service longer!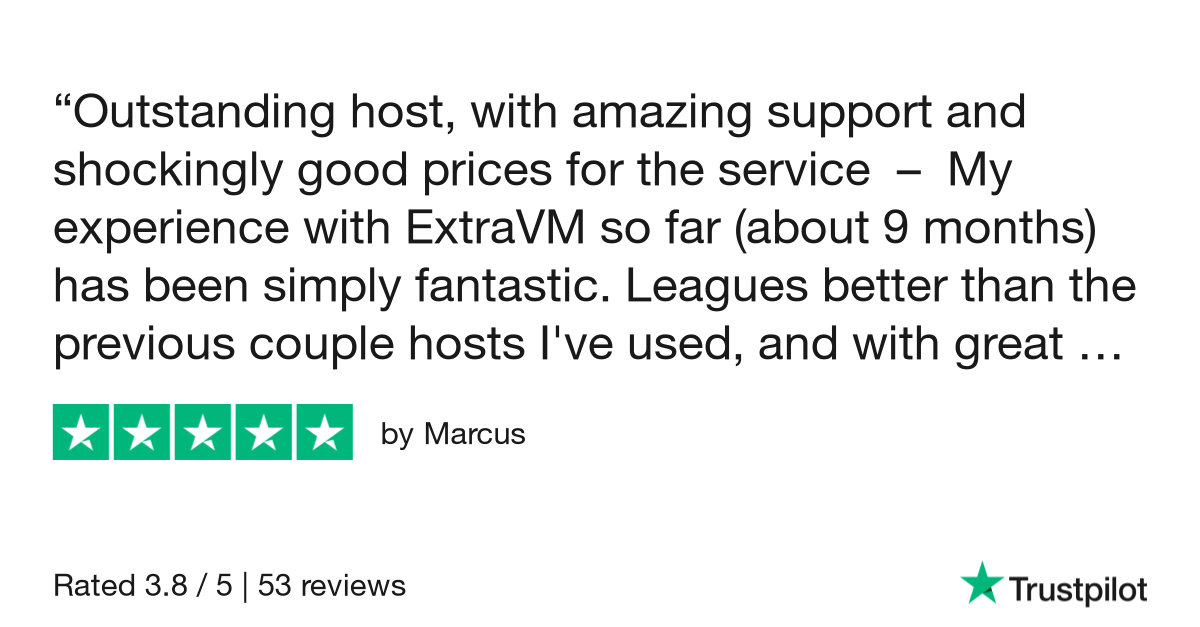 • John Har - TrustPilot - May 24, 2020 - Great for Minecraft. Using ExtraVM for Minecraft server, a heavily modded game running Forge mod loader. Great speed of server, good connection good uptime priced reasonable. Much better than other host we have experienced. Highly recommended.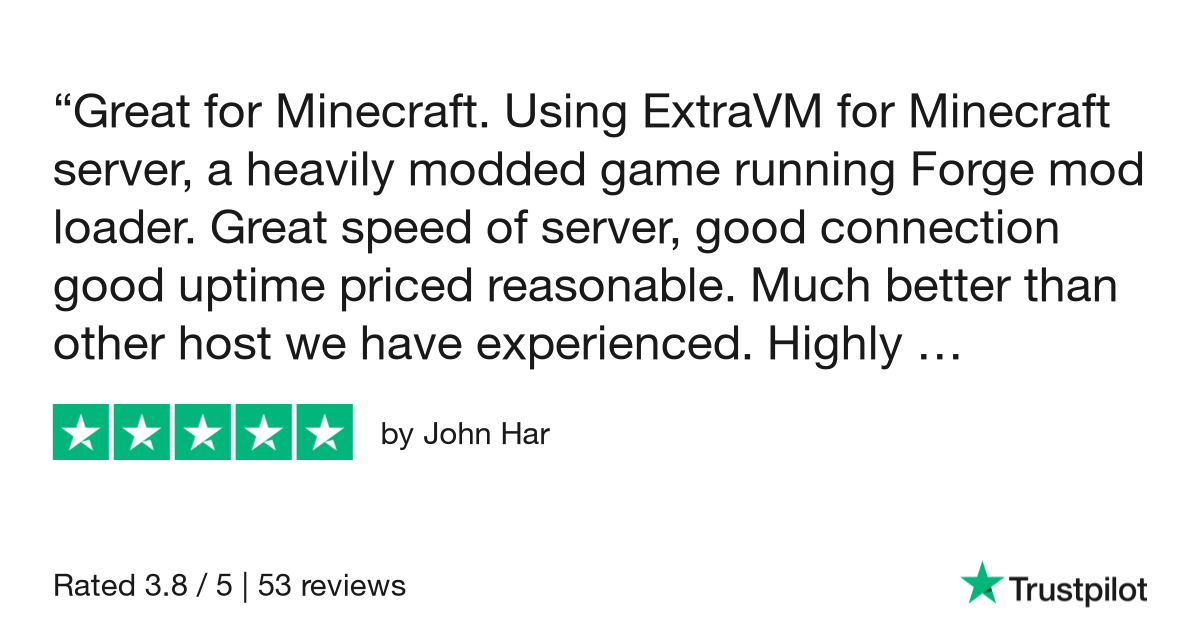 • Nate - TrustPilot - April 25, 2020 - I been with ExtraVM for a while now maybe a year or so and whenever i get the urge to play minecraft with some dudes I will always 100% go to these guys to set me up a server. There care in customer support and overall quality is amazing especially for the price. They never asked me once to leave a review either, i have such high respect for these people. Mike A this guy was the ONLY one who has helped me in my servers and really a generous person. He saved me $$ and suggested i donate to a few organizations. And mind you Mike A would be the only one who would attend to my server issues and me being a noob in operating that stuff you can imagine he got alot of tickets. He is dedicated to what he does, at times i would feel bad cause I only see him answering the tickets and as far as i know the only one setting up the servers...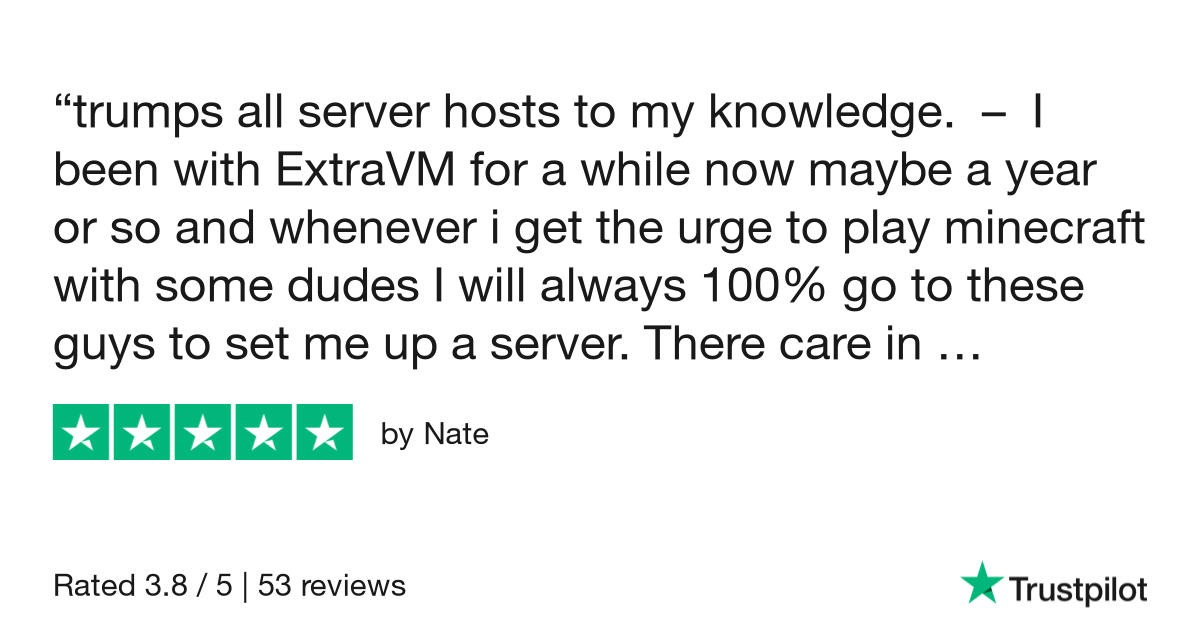 • JL - TrustPilot - April 16, 2020 - I've been testing various Minecraft hosting providers for personal use. I signed up to ExtraVM for a trial, discovered they don't really offer services that would work for me (almost everything seems to be for Java Edition servers). I contacted customer support, and they replied within a couple of hours with a sensible, to-the-point explanation. The offered to refund, which they did within another hour. This is in huge contrast to the other three providers I have tried, where response times range from a day to never, and responses are usually scripted pointers to FAQ pages. Even though I discontinued their service, if their products did fit what I needed, I would sign up again without hesitation.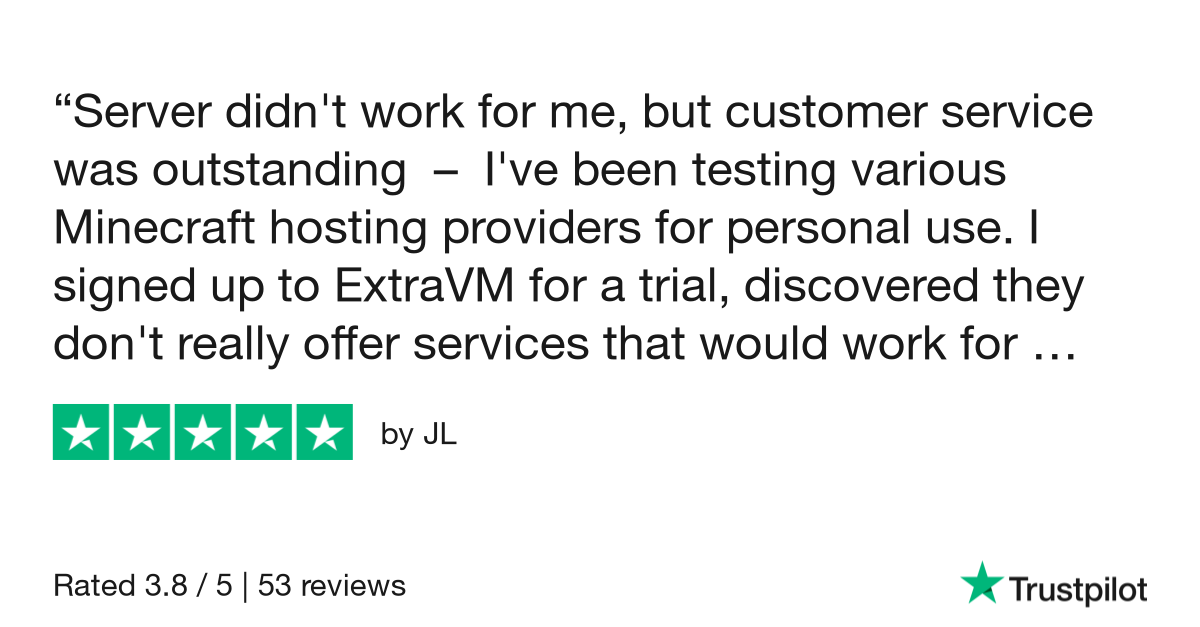 • Michael A. - TrustPilot - April 3, 2020 - Excellent support and performance.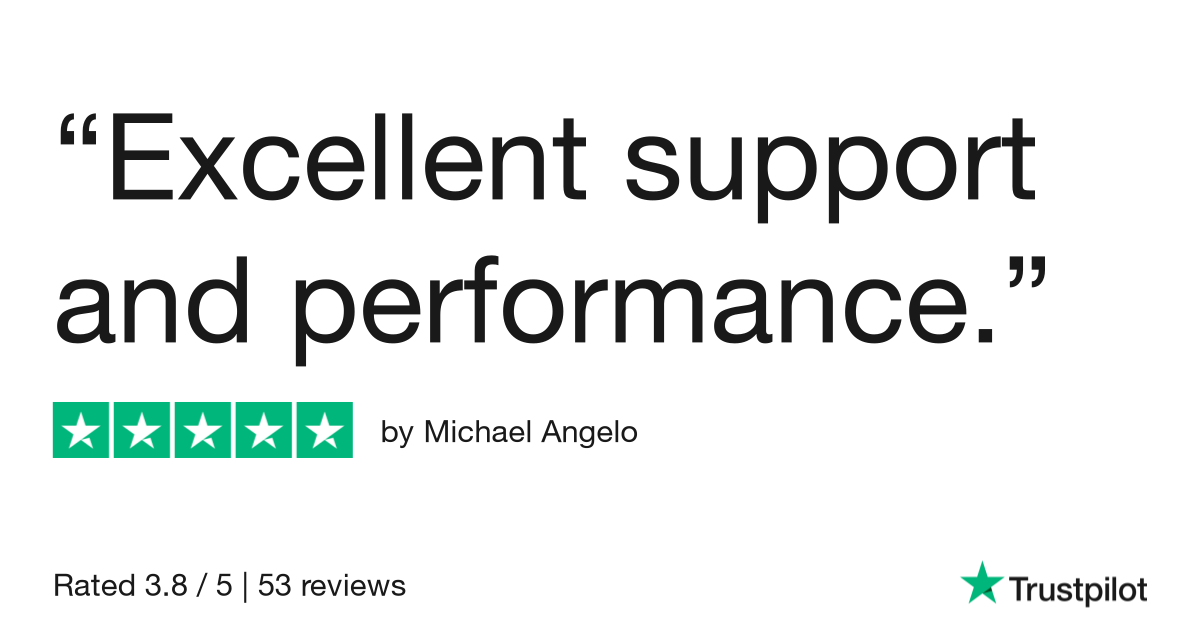 • John - TrustPilot - March 22, 2020 - Have been using them for close to a year now. The customer service is honestly the best I have seen, you will often get a reply within 5 minutes of creating a ticket. I personally use them for shared hosting, and have used 2 others before this and I can say for sure that extra vm has been the most reliable and professional out of all of them.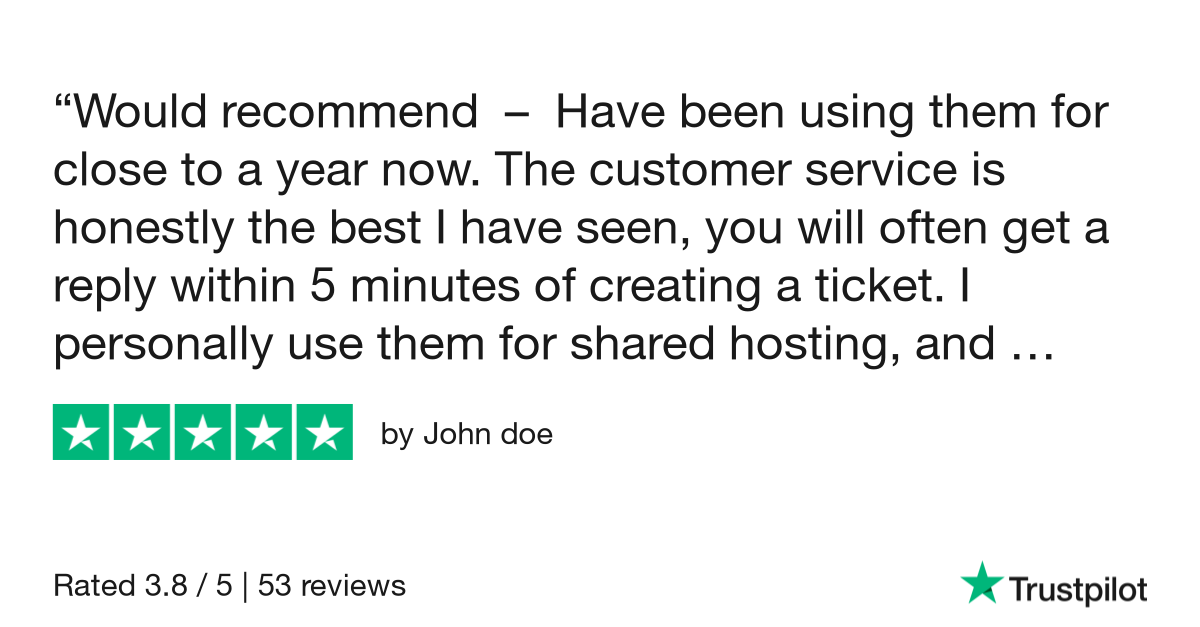 • Customer - TrustPilot - March 20, 2020 - This host is so amazing. I have never been with such a quality shared host. ExtraVM's support is fairly quick and the server uptime is extremely good. I found the service accidentally, and now I feel like I have missed so much. Their servers have fast disks and they perform very well. I addition, the prices are just extremely good. 3$ per gigabyte of memory for a game server is just perfect. Thank you for everything ExtraVM. You made my week.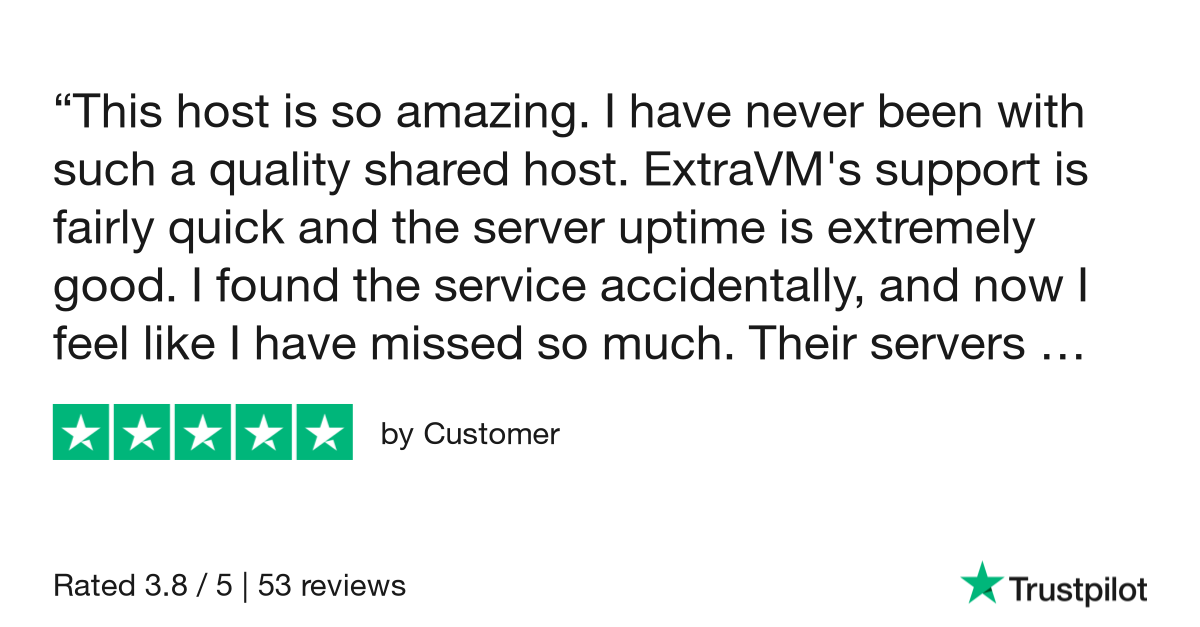 • Zigi - TrustPilot - February 2, 2020 - Friendly kind and professional. Never had an issue but if I had any questions they would be answered within minutes.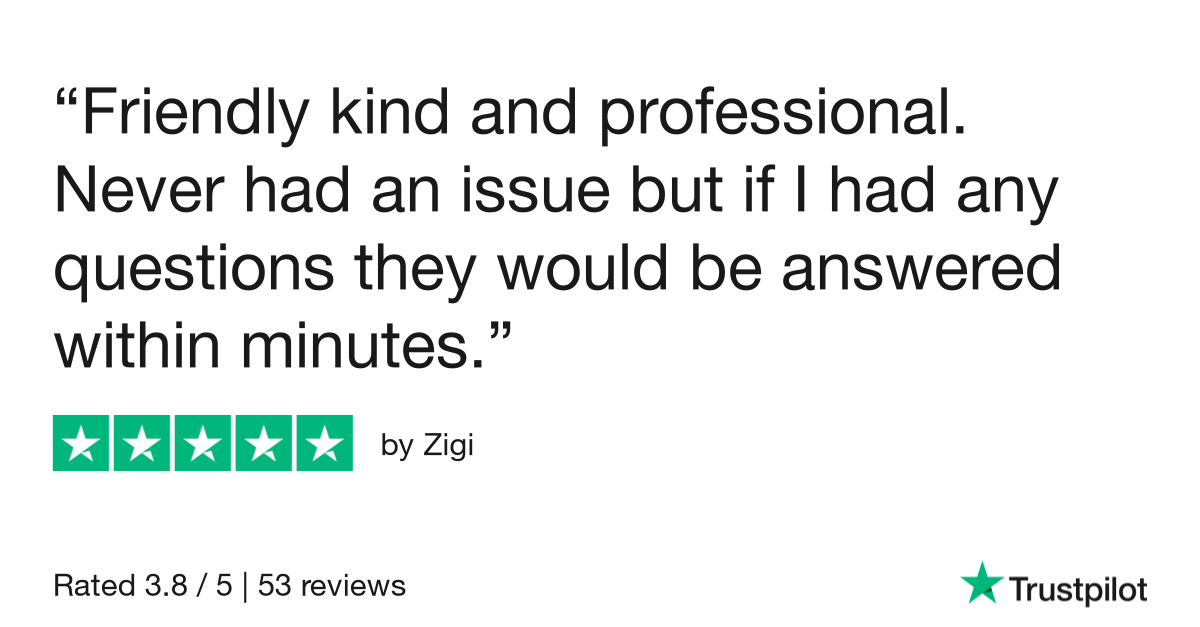 • Chris - TrustPilot - January 24, 2020 - Running a mc server for about a week now. The performance is excellent as well as the cost. I had one small issue which was quickly resolved minutes after I put a support ticket in, and they also gave me insight to what may have caused this issue so I can avoid it in the future.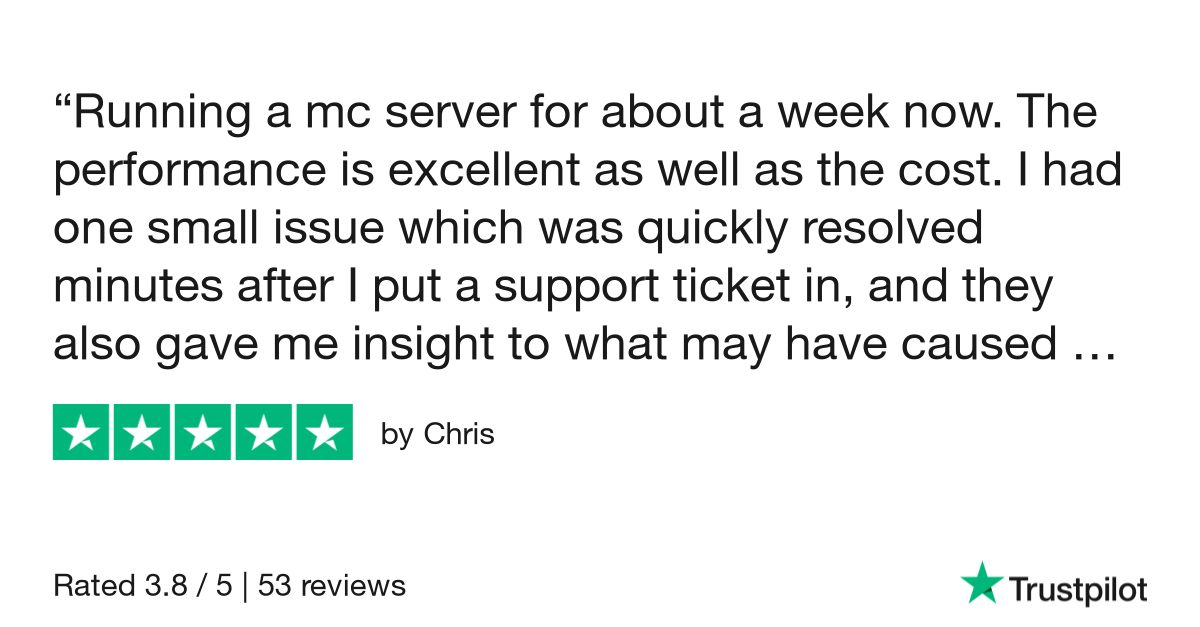 • Savage Fam Gaming - TrustPilot - December 20, 2019 - After renting a server, I had a couple questions and things I needed done while I was still at work, Mike himself answered my questions and set up what I needed in a matter of minutes, I don't think I've ever gotten better service from a hosting company. Thank you Mike, you are a star in this industry. Great hardware, even better service.



• Charlie W. - TrustPilot - November 5, 2019 - To anybody who is unsure of where they want to host their server because everybody claims to be the best, host it with ExtraVM. Not only do I get insanely consistent and reliable server uptime, but the customer service is also insane. Within 5 minutes of opening a ticket you will have action and a response. Also, no question is a bad one. This was my first exposure to server hosting, and it has been an incredible experience because no matter what I need, there is help through ExtraVM. The people at ExtraVM care about their customers and give them what they pay for. This is an incredible service run by incredible people with incredible communication with their customers.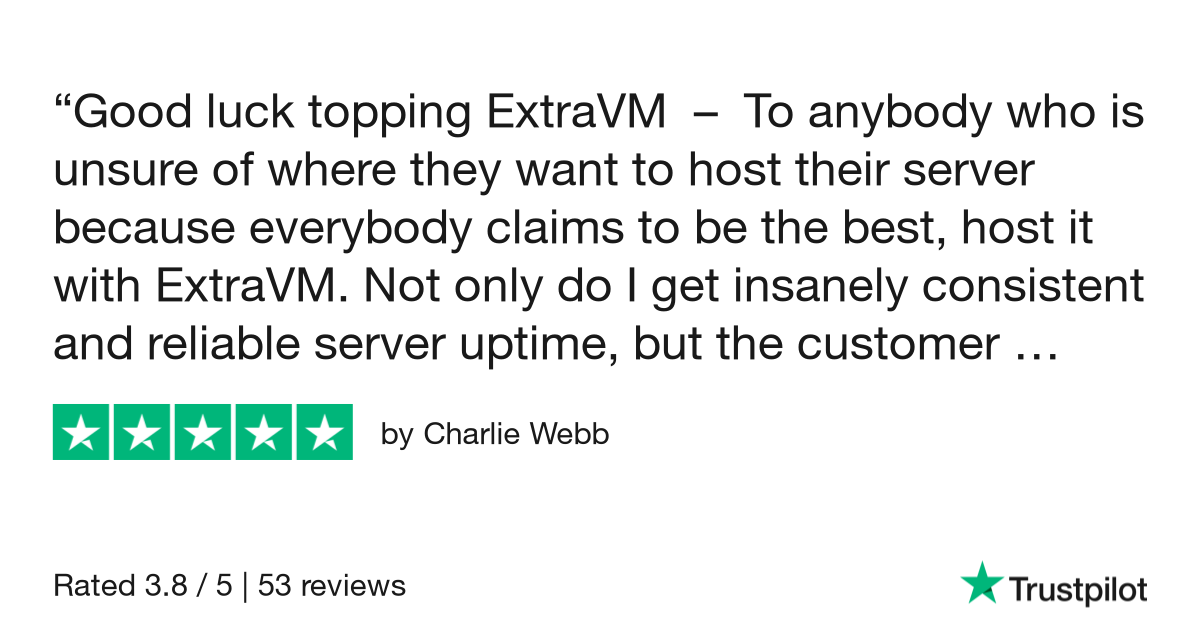 • Max - TrustPilot - October 1, 2019 - I've used both ExtraVM's Minecraft game server plan and Dallas Ryzen VPS. Both have performed great and are a very good value, especially for their price. Mike responds to support tickets extremely quickly(usually within minutes), and will go above and beyond in terms of helping set something up or answering questions. If you are looking for Minecraft or VPS hosting, ExtraVM is definitely a solid choice.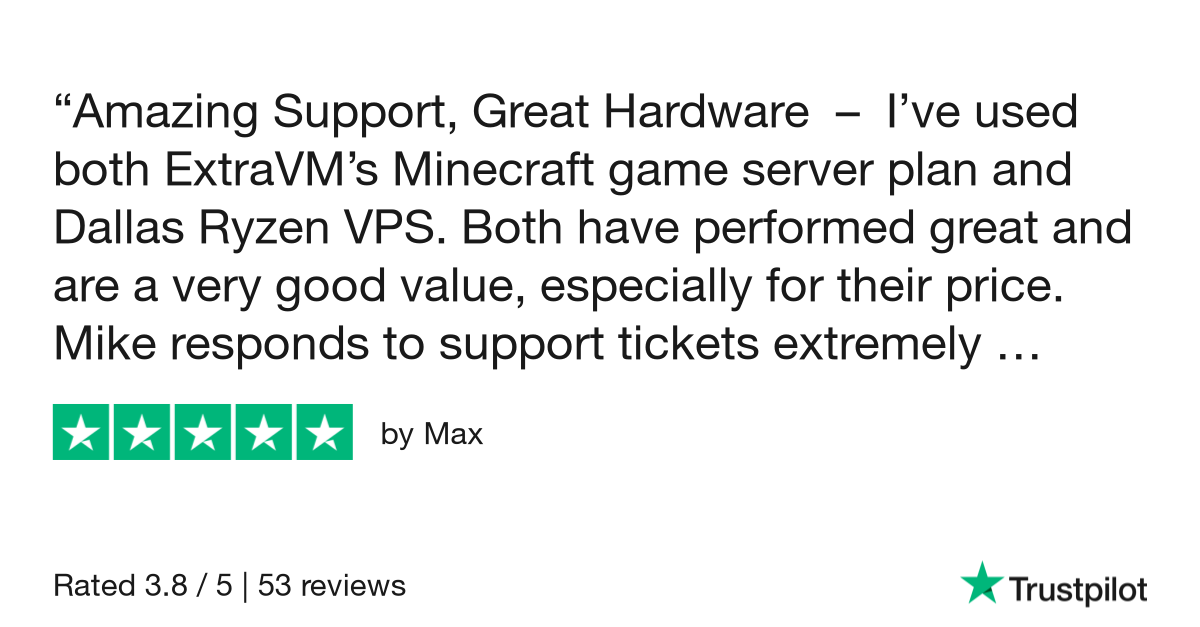 • Sandy - TrustPilot - August 23, 2019 - I'm totally new to all things computer and wanted to set up a minecraft server for a reasonable price and also transfer a world from single player to the sever. The customer service was excellent, Mike was extremely helpful and patient even thought I sent a ridiculous amount of emails with question after question! He sorted the whole thing out and answered all the questions within 5 minutes of me asking them. Very positive experience!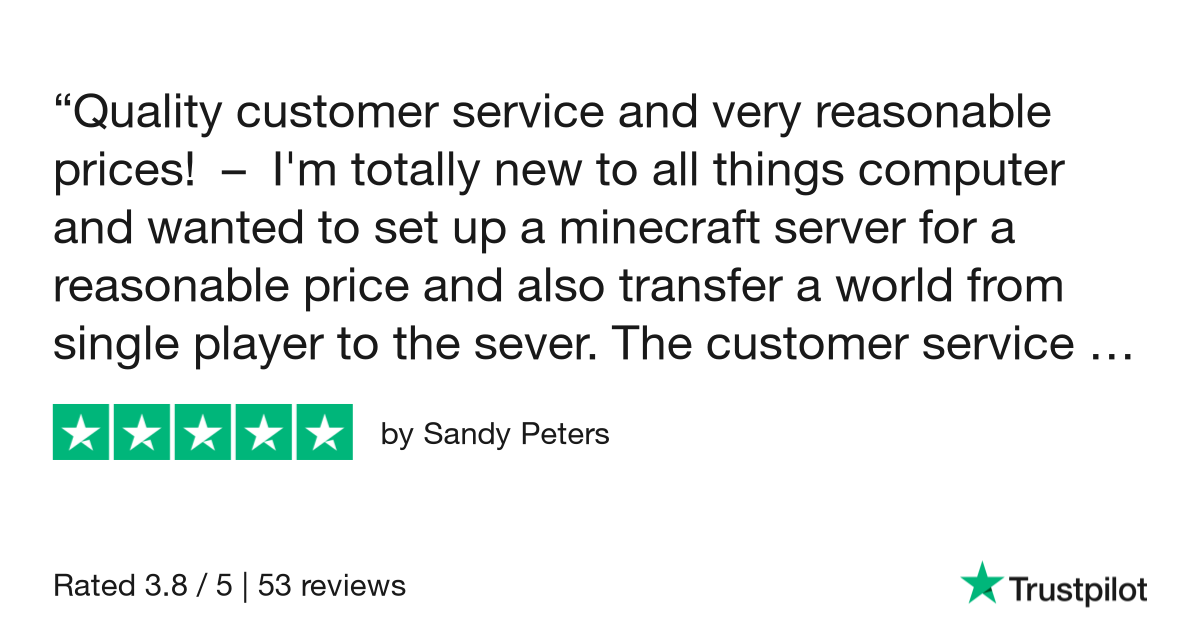 • Raymond - TrustPilot - August 7, 2019 - I purchased a Minecraft server a month ago and it has absolutely no technical problems. It ran a large world and plenty of plugins without any lag on the server-side. I definitely recommend this service, especially at a cheap $3/GB/month.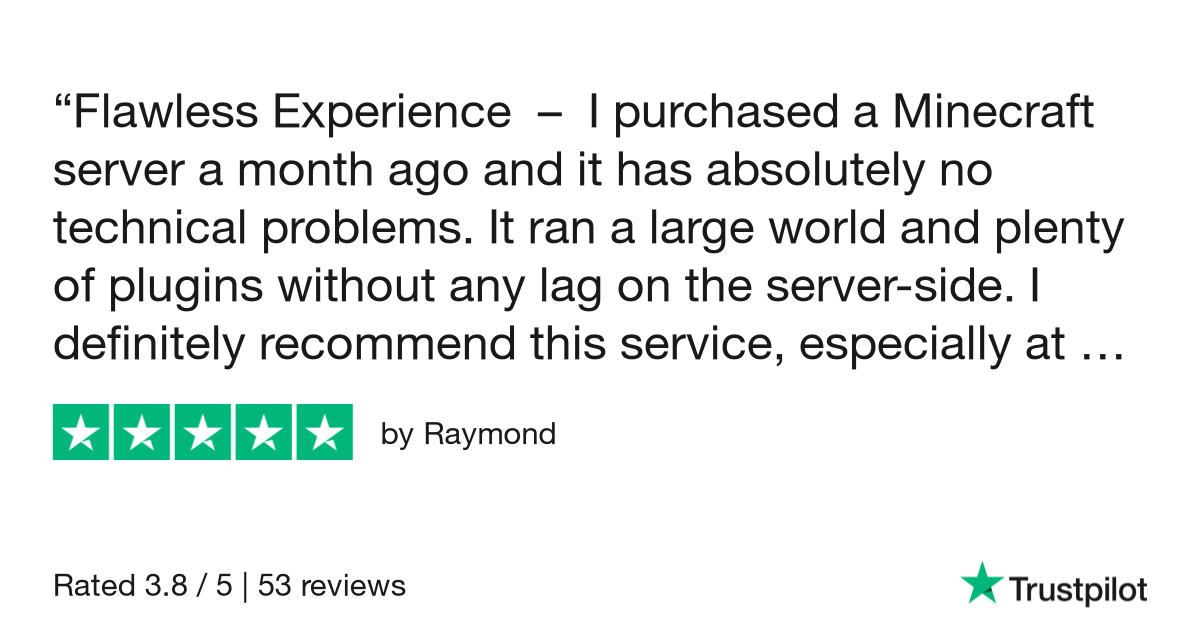 • Cafe Stifflered - TrustPilot - July 11, 2019 - Really love my experience with ExtraVM. Mike has always been very attentive to the products I purchased, even sending me emails unprompted to let me know if he notices any problems. The pricing is good, the uptime is great, and the professionalism (plus fast reply to support requests) are superb. I recommend ExtraVM very often.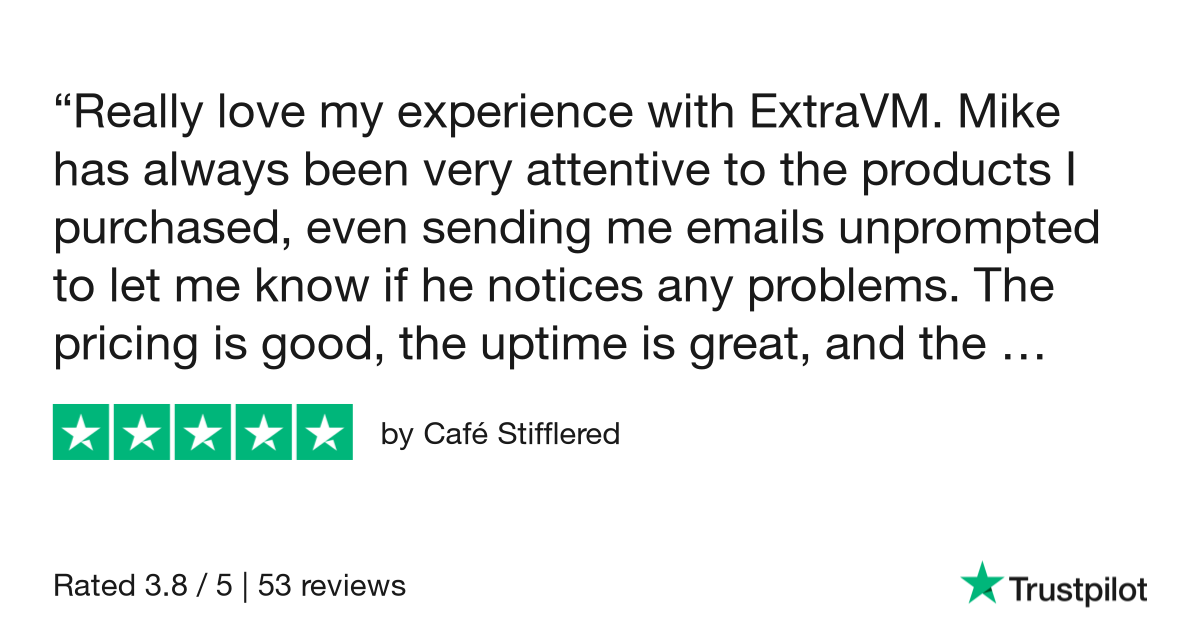 • Kyle - TrustPilot - June 30, 2019 - I setup a server for my friends and I to play Terraira on a quarterly plan. The server was setup quickly and it was a quick process for me to get logged in with putty and winscp to setup the server. I had the server saving the world every 5 minutes (overkill) but there were no issues with lag. Will use again either when Terraria gets the final update, or possibly one of their Minecraft solutions.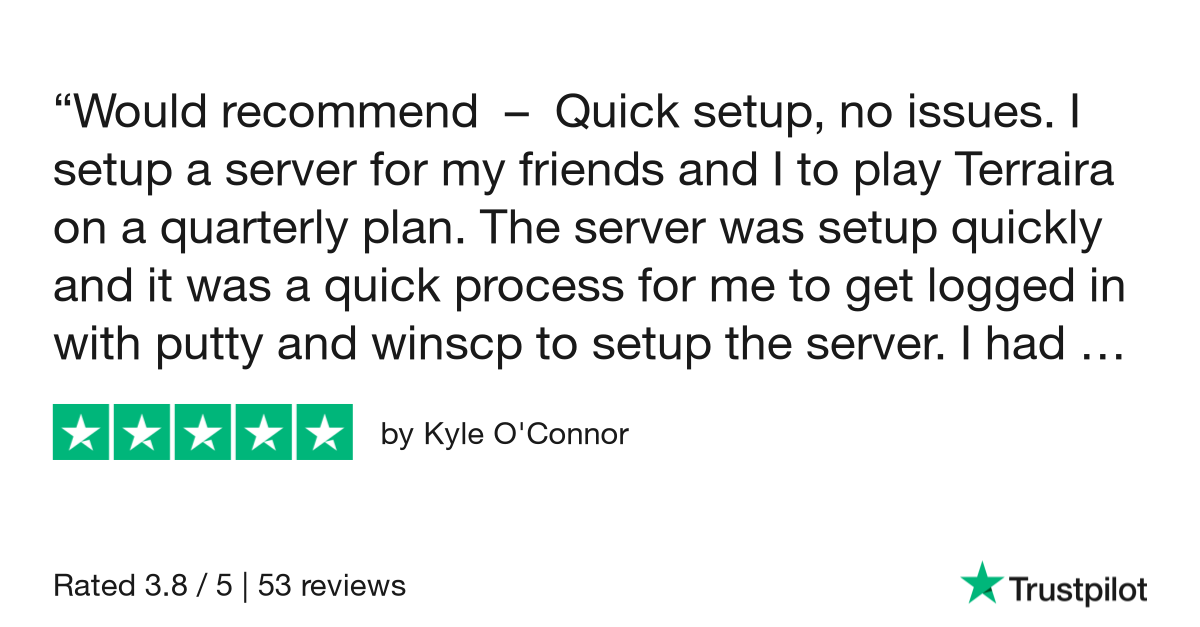 • Maxi - TrustPilot - June 14, 2019 - Great service. I recently wrongly left a bad review of 2 stars without knowing if i had a problem i could just ask. This site is great and are willing to help you with your problems at anytime. When i reached out a person called Mike A reached out to me and sorted my problem in 7 minuets.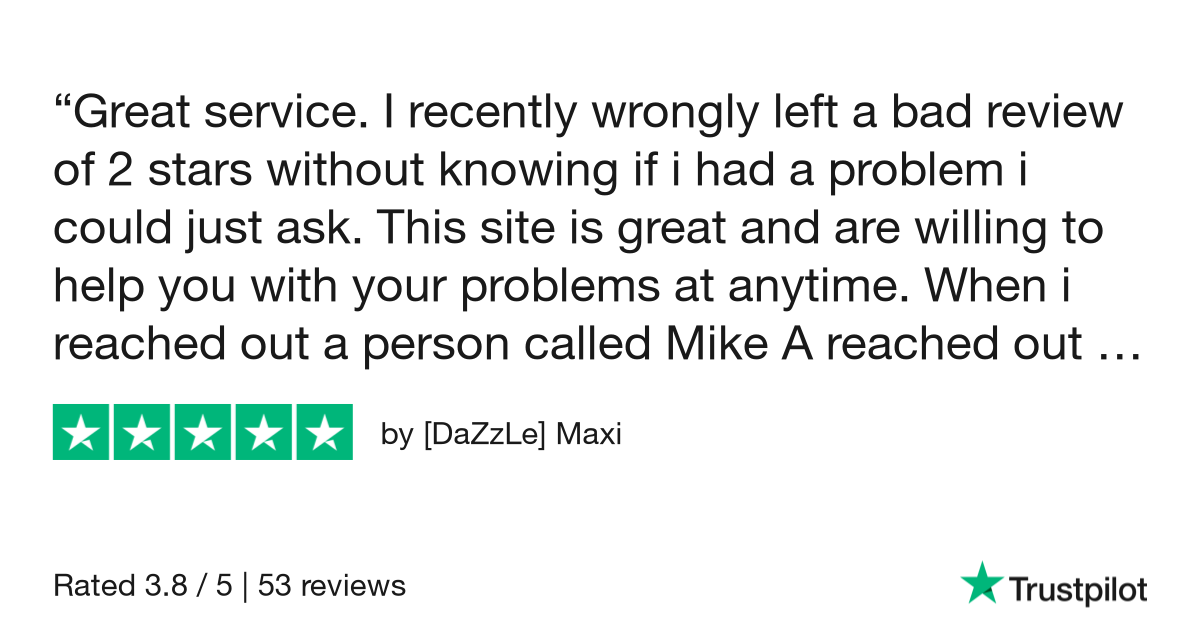 • Mac - TrustPilot - June 12, 2019 - I'd been bouncing around server hosts for a while, and still hadn't nailed down one I was super happy with. Prices were unreasonably high, service/user experience weren't great, and/or support was slow/non-existent. I came across a handful of reviews for ExtraVM on Reddit, and a few other places, and figured I'd give them a go, since the reviews were all pretty positive. Have to say, as of now, I definitely think this is the best server host I've found so far. Pricing is great, the servers are stable, and Mike's support was not only quick and responsive, but he took it a step further and fixed my issue himself. Where any other service provider would have just sent a link to a FAQ or some general "cover-all" statement, Mike/ExtraVM solved the problem himself, literally within minutes. Ignore the ignorant, baseless 1-star reviews below, this is by far some of the best service you can get.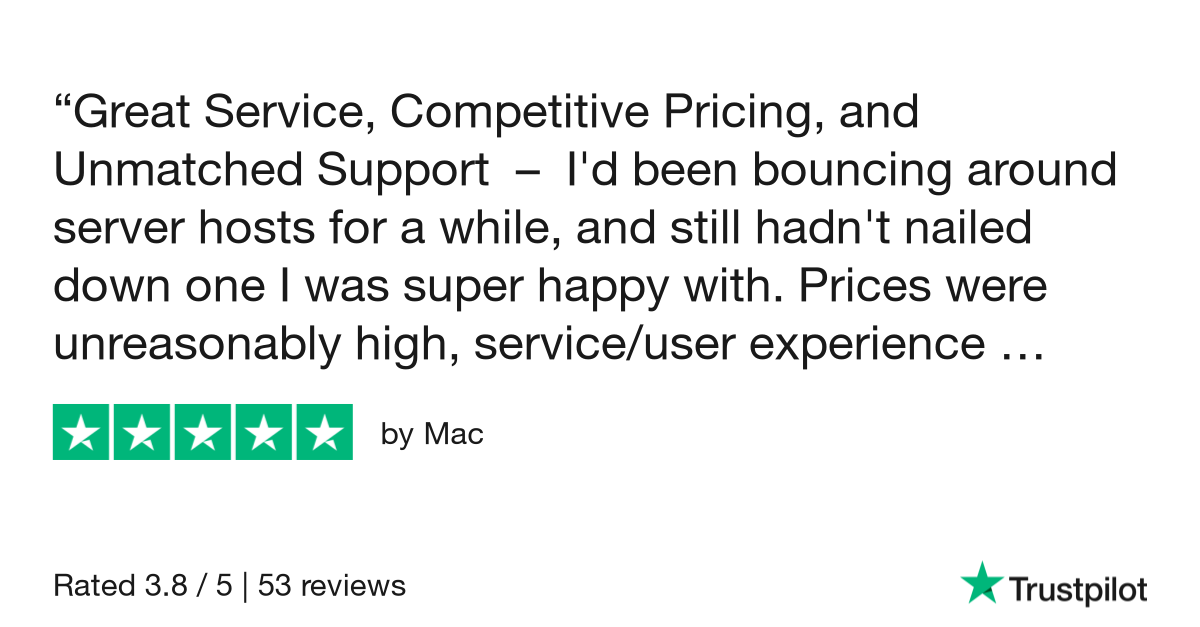 • Tucker - TrustPilot - June 10, 2019 - So all day I was trying to get my modpack to load and work on my server with my old hosting service. I asked their support and they told me that they would do it for me if I payed an extra 15 dollars a month on top of my already 12.50 a month. I was so fed up and decided to cancel my subscription right there and started looking for another service. On Reddit I found a post taking about this service and said good things about it and let me tell you they are all right! I posted a ticket on their site saying I couldn't find out what was wrong and it kept crashing. I posted the ticket and then took about an hour nap and when I woke up the person who was helping me with my ticket said he loaded up the latest pack and said it should be up and running. The support I get from this service is so much better than my previous hosting service and is less than a dollar more a month for the same set up.I can honestly say am looking forward to continuing my subscription here!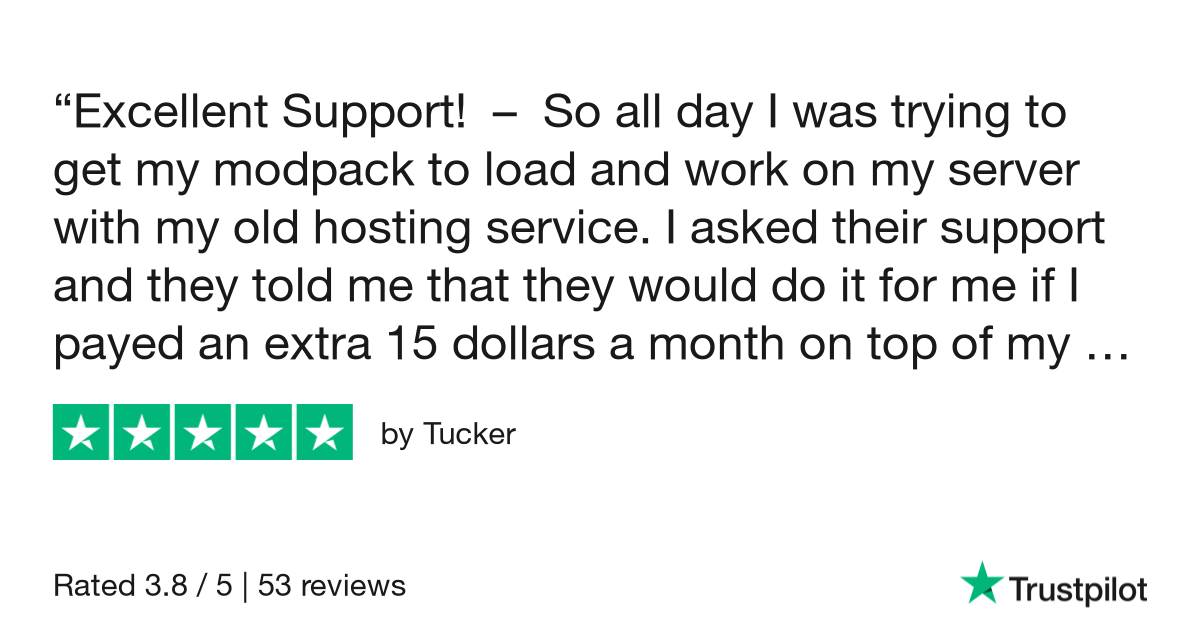 • Ryan T. - TrustPilot - May 31, 2019 - I have just hired a vps for my Don't Starve Together server for nearly a week. very quick responses, taking few hours for setting, very strong vps for game hosting with good price. Honestly, you can't find another vps which is stronger with this price. If anyone want to find a vps for game hosting, i strongly recommend to use ExtraVM.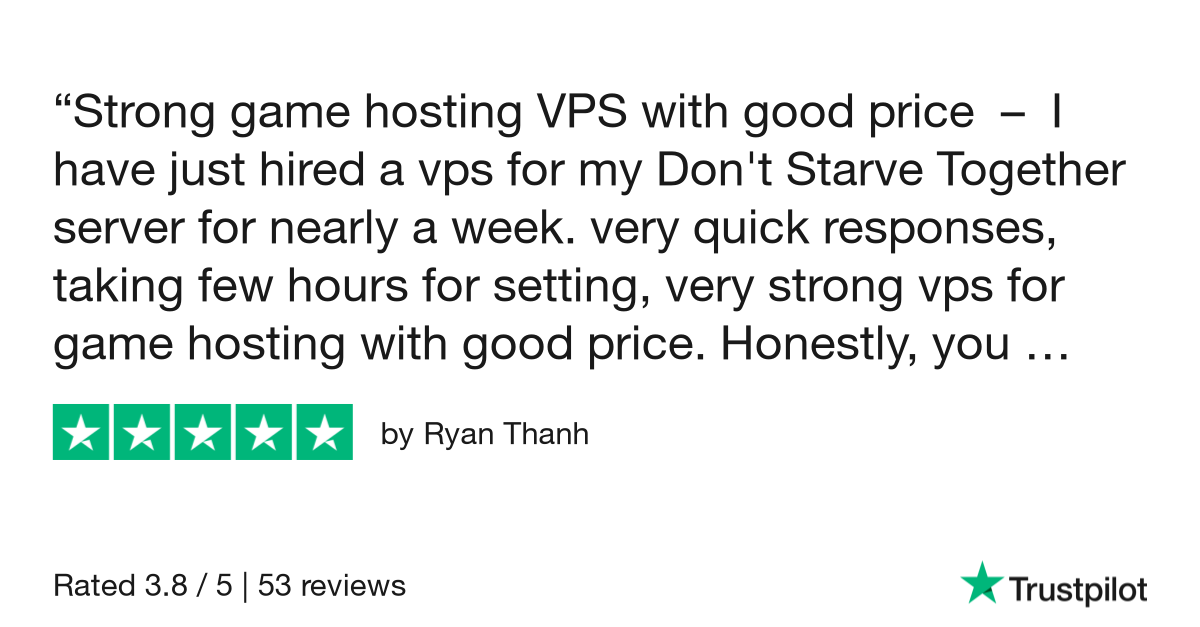 • Adam - TrustPilot - May 23, 2019 - Incredible support. I've been with them less than a month but I can't imagine going with any other service. My server has been growing a lot lately and they have put up with my constant upgrades and changes. I'm running two servers with them now, a Minecraft dedicated and a VPS for Minecraft bedrock server. I get quick responses, quick action, and help recommendations when I need it. I literally cannot say enough good things about ExtraVM. If you're thinking about buying from them, just do it. You won't regret it.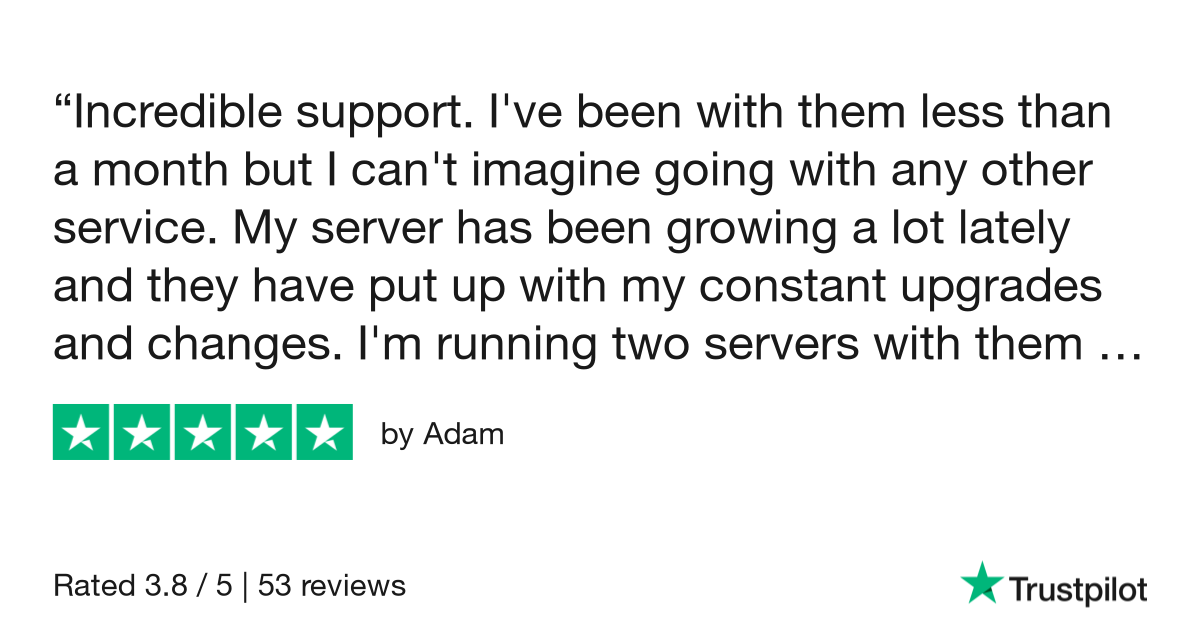 • Pedro - TrustPilot - April 17, 2019 - Been a customer for over 2 years now! I can guarantee ExtraVM is the best! I always had a good customer support from Mike, been using their server every month for past 2 years now, cant be happier! No Down times, Great DDOS Protection! Been running my Teamspeak 3/ Clan Community there without any problems / concern. I would recommend!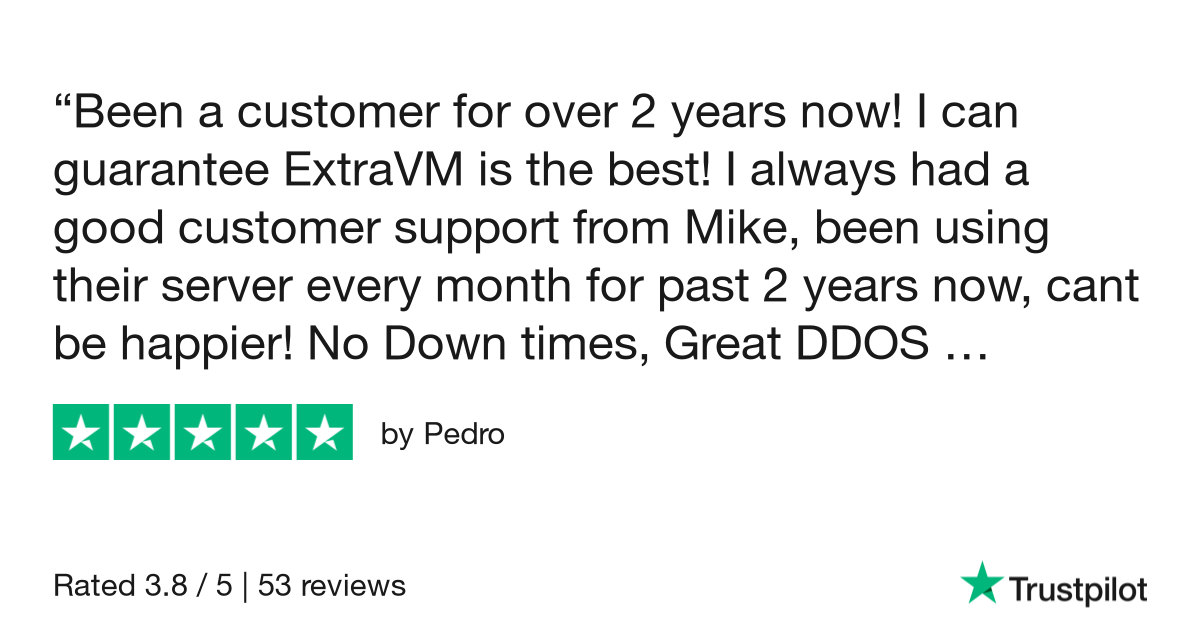 • Michael A. - TrustPilot - April 4, 2019 - Great customer service! I've uploaded my server modpack, and they have been able to set it up very quickly! Then I forgot to update my files and asked them again to set it up, and they've done it within minutes! Then I forgot to zip my libraries folder to the server modpack, whilst I was uploading it, and asked for the third time to update it, and they did it again, within minutes! Great response time, very happy with the service! (Really embarrassing though)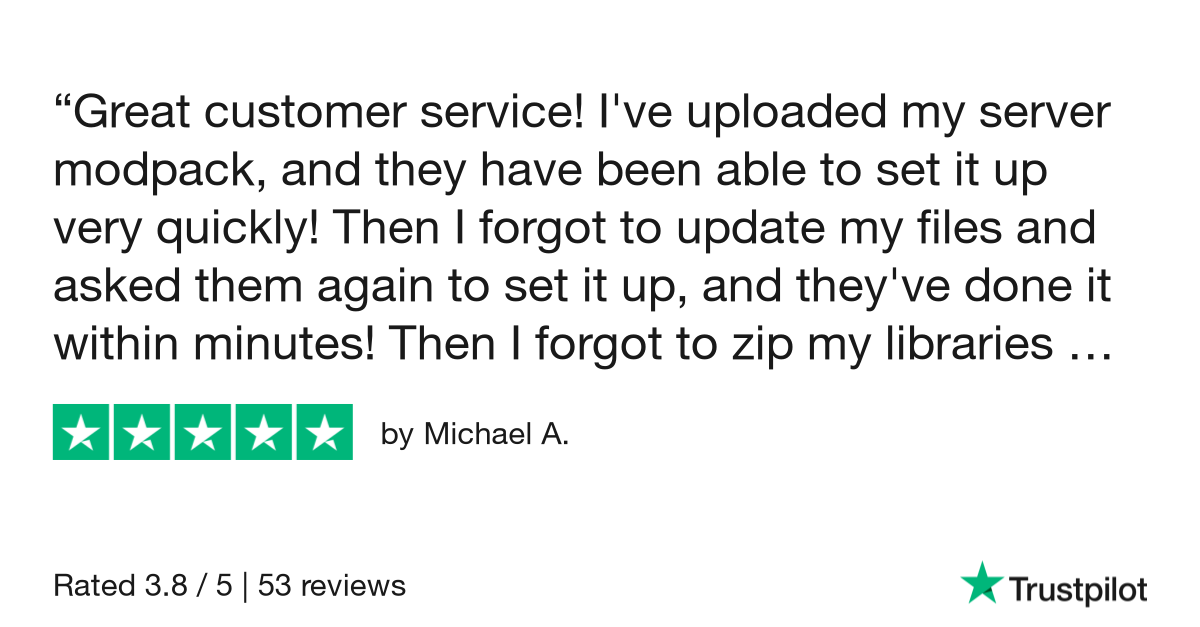 • Hosting User - TrustPilot - January 6, 2019 - Great shared hosting service. No problems at all in the last year. Quick response to tickets even on holidays and weekends. Very reasonably priced service. In short you cannot beat the quality to price ratio.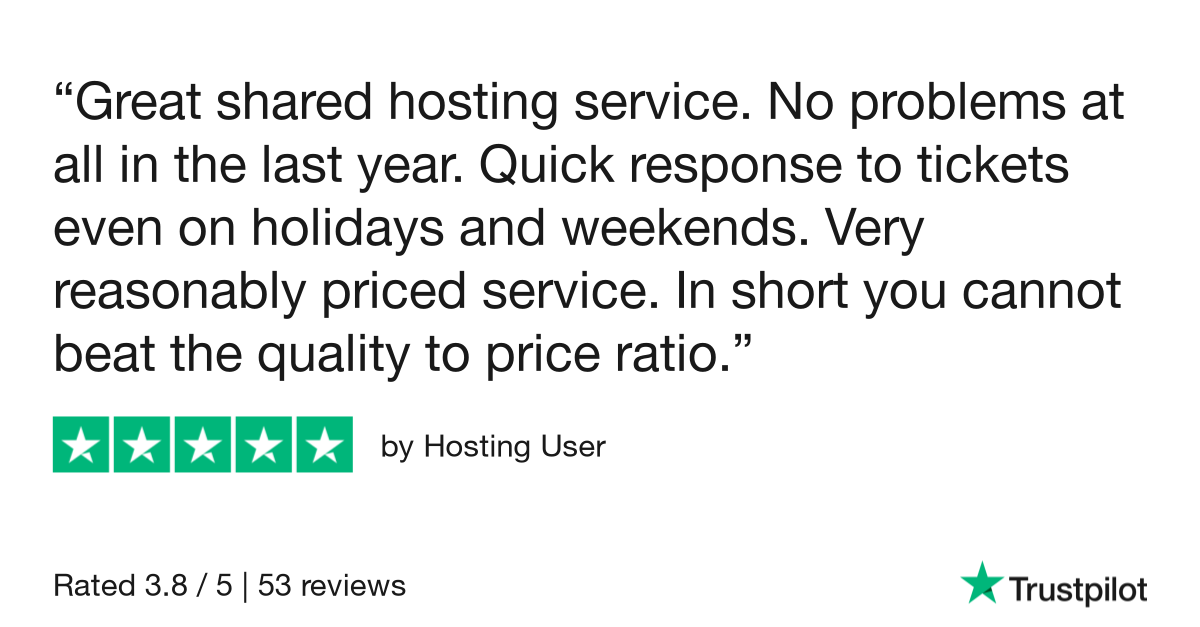 • Will - TrustPilot - November 29, 2018 - Been using them for a while, amazing service, and great experience.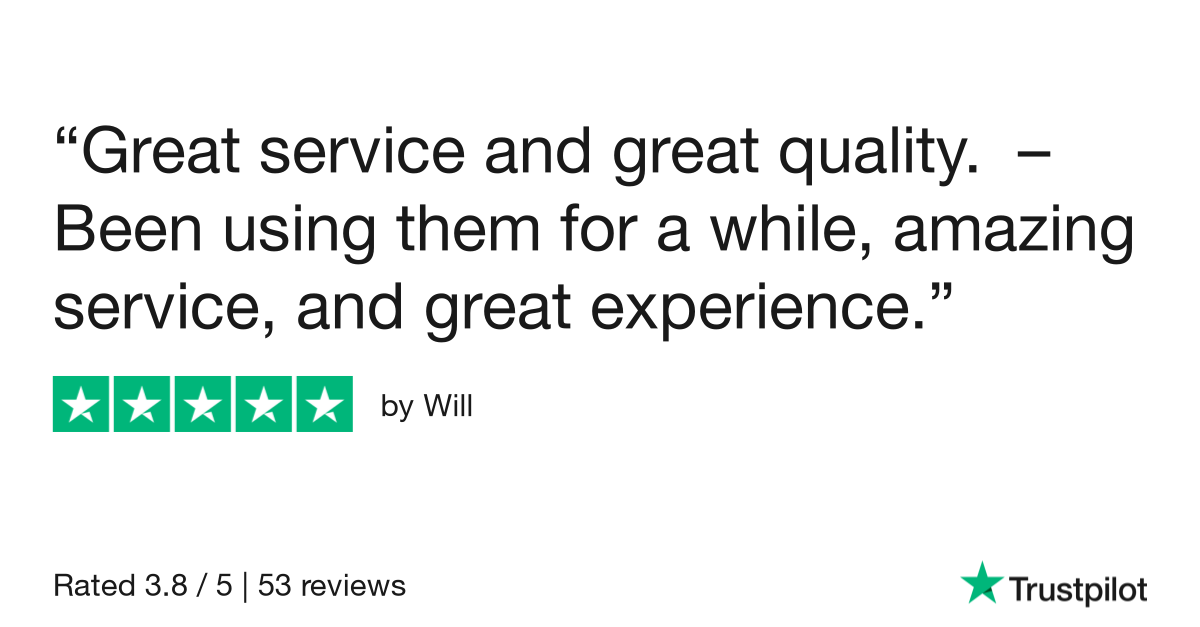 • jo jo - TrustPilot - October 6, 2018 - Very good experience! You get notified when a DDoS attack is detected via email, haven't been successfully DDoSed (even OVH/Softether bypass attack methods were filtered or mitigated no downtime, no lag, etc. Over all one of the best hostings I've used (I've been through 10+), isn't able to be timed out of COD servers by a 10 Mbps UDP flood on the destination port like vps from ovh or (redacted) Host. 💯 Recommended!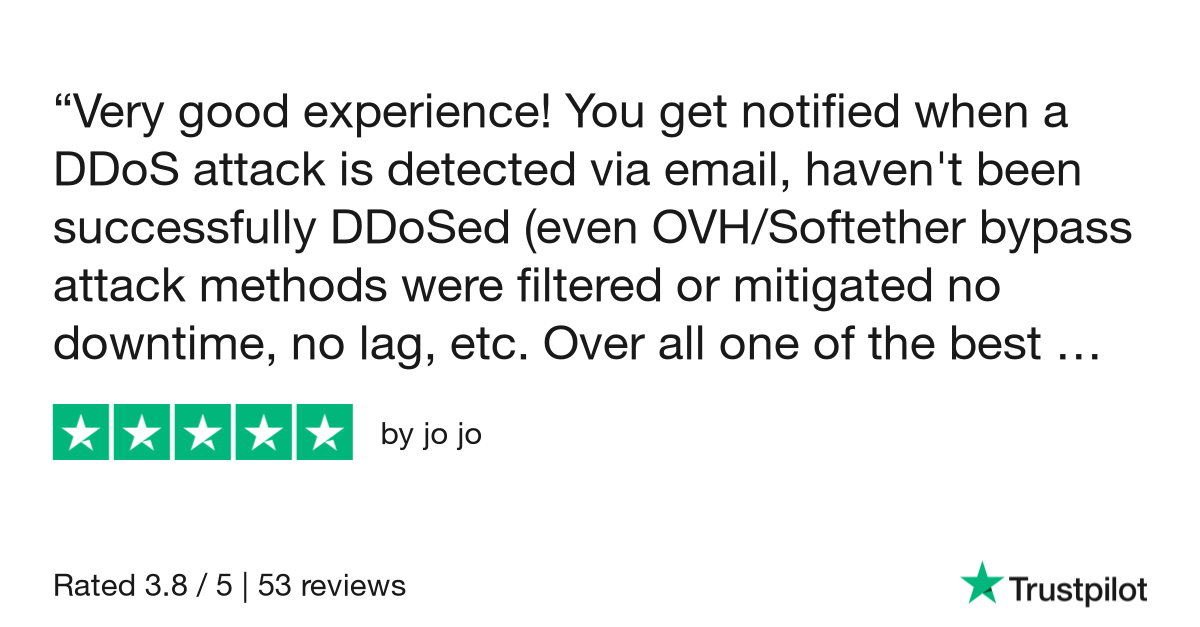 • Adrian G. - TrustPilot - July 20, 2018 - When I was looking around for a Minecraft host, I couldn't help but notice they all looked the same and offered pretty similar features nowadays. I didn't like their websites either because of the color scheme and mushed together in-house control panels. ExtraVM doesn't aim to be anything flashy, they are affordable and I am very satisfied with how valued Mike makes me feel as a customer, frankly. This host has a Multicraft control panel, something standard and simple to use. Mike tries to accommodate my support requests as best he can, within reason and I think he's fair. Part of the reason ExtraVM stood out to me is that their sales recommendation for me was not to buy into a more expensive VPS, but instead to check out their similar Minecraft game plans that were cheaper. So since I am pretty much assured Mike loves his passion and wants to be successful, I am never moving away because I also want to support his business.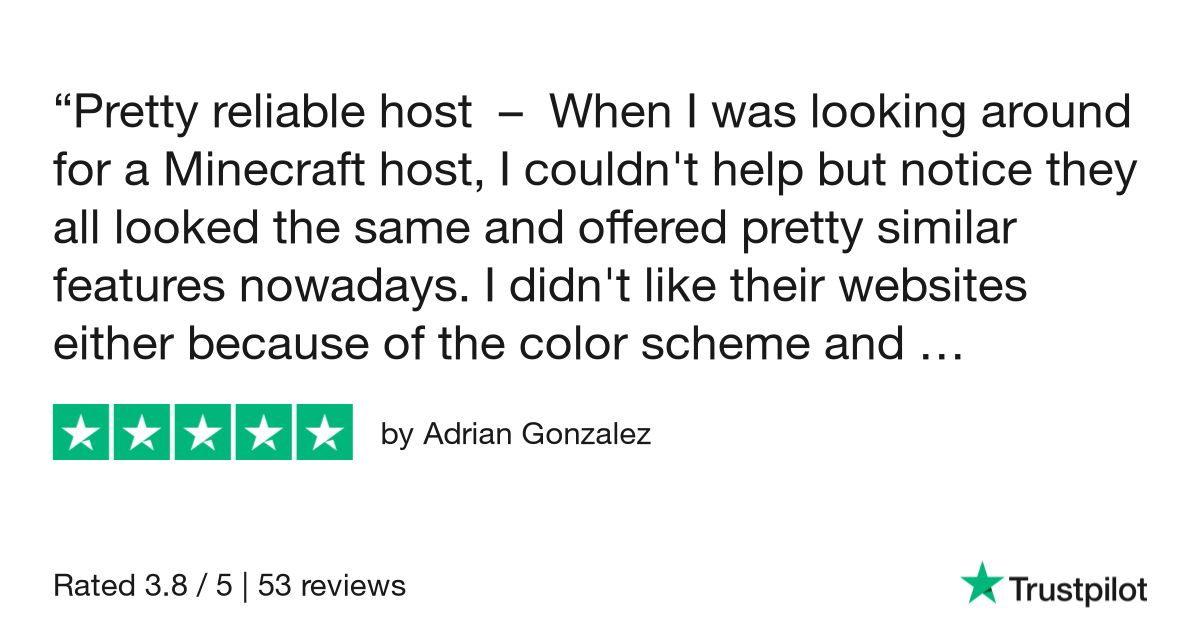 • Matthew B. - TrustPilot - July 14, 2018 - Happy with my experience with extravm. My vps didn't work for what I needed but they promptly refunded me,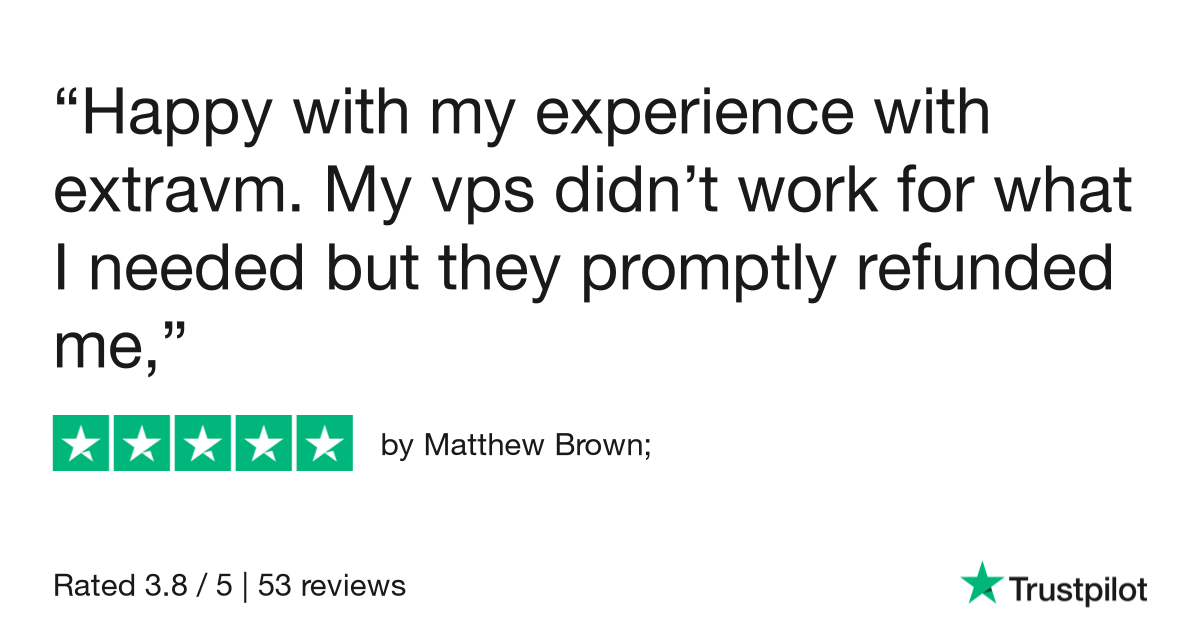 • Xiti - TrustPilot - May 31, 2018 - Great service. Bought server there year ago and its wonderful, 100% up time, DDoS protection is really a thing. After changes 0 problems with annoying opposition what try to take down your services! 100% recommendation.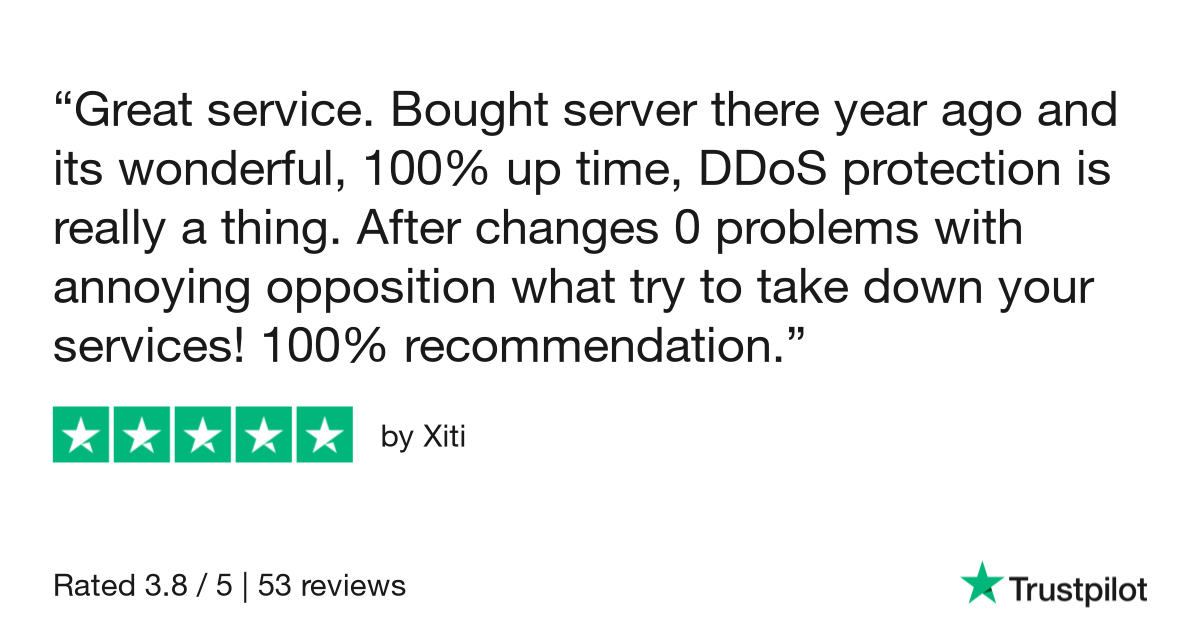 • Cronnie H. - TrustPilot - May 18, 2018 - What a great Hosting that I found in a couple of month, 1st of all, I hesitate but then when I tried, It is 100% stable with perfect protection for my Game Server, and now I have 3 VPS on this hosting and all are stable 100%, More clients to come ExtraVM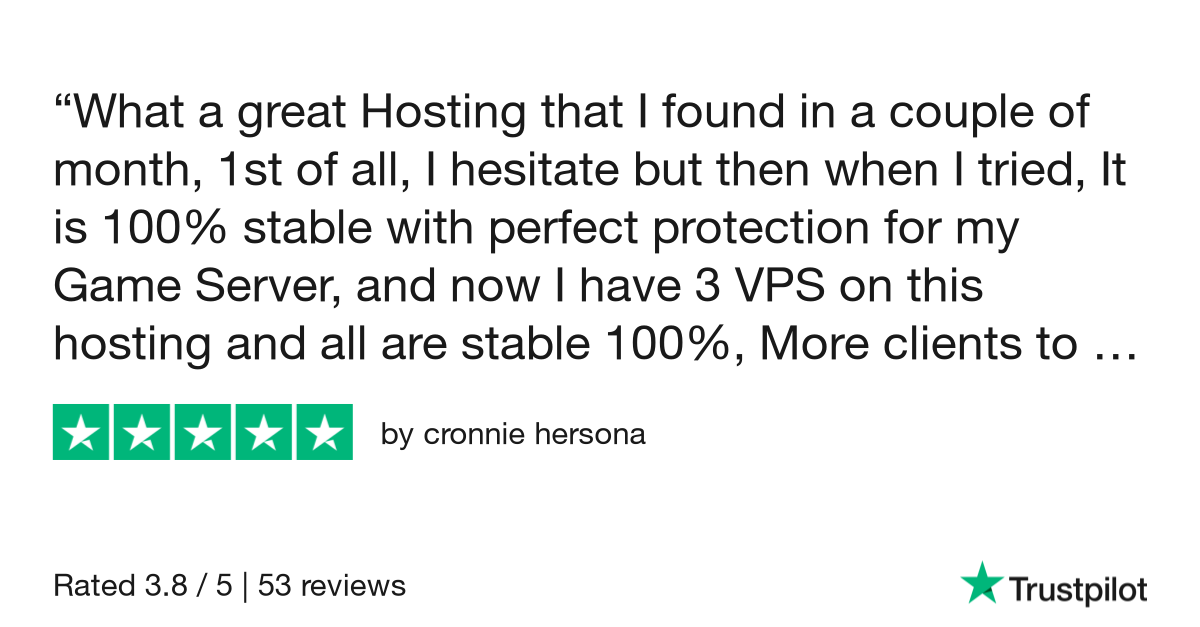 • Sahrul A. - TrustPilot - March 12, 2018 - They provide cheap and super good vps. Also their support is A+++ I recommend this and love it